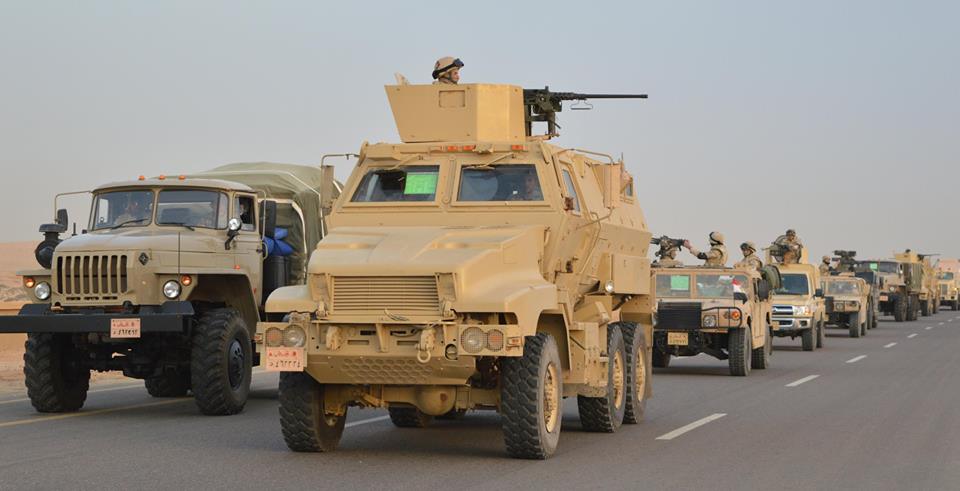 Egypt's Armed Forces killed 16 militants and destroyed 66 militant hideouts on Sunday morning as part of a large-scale operation dubbed "Comprehensive Operation Sinai 2018" that began on Friday, an official statement by the army's official spokesperson read.
Sunday's statement said that forces of the Third and Second Field armies with the support of special forces and the Thunderbolt commando force swept North and Central Sinai and killed the militants there.
The destruction of the hideouts was carried out with the support of Egypt's Air Force.
A storage facility containing Improvised Explosive Devices (IED) and two four-wheel vehicles used by militants were also destroyed.
Four people affiliated with the militants were arrested while they were monitoring movements by the army forces, and 30 other suspects were detained and are now subjected to investigations.
12 IED planted at places where the forces would pass were discovered and 11 four-wheel vehicles and 31 motorbikes were also destroyed.
The third day of the operation also resulted in the destruction of a media center that contained a number of computers and wireless communication devices in addition to books and other means used to spread "jihadist ideology," according to the army statement.
Four official statements have so far been released by the army since the beginning of the wide-ranging operation.
A video message released on Saturday said that the Egyptian Air Forces executed a number of airstrikes against militants' stationing points in North and Central Sinai.
The strikes began on Friday and went on until the early hours of Saturday morning during which a number of weapons storages and logistic support zones belonging to the militants were destroyed.
Dubbed "Comprehensive Operation Sinai 2018," the operation was conducted with the participation of various branches of the Egyptian Armed Forces, including the Third and Second Field Armies located in the Sinai.
"The number of forces that are participating in the 'Comprehensive Operation Sinai 2018′ reached 35,000 armymen with the support of Egypt's Special Forces and police. The operation aims to eliminate the presence of the Islamic State-affiliated group Sinai Province. The wide spread of the Egyptian Armed Forces in the Sinai will leave no presence to a single militant," an army source who preferred to remain anonymous told Egypt Independent on Sunday.
Since 2014, North Sinai has seen an increase in conflict between the army and police and Sinai Province—previously known as Ansar Beit al-Maqdis before it announced its allegiance to the Islamic State. The group has launched several violent attacks against army and police checkpoints in North Sinai cities.
North Sinai-based state security has carried out large-scale security sweeps and military operations in response.