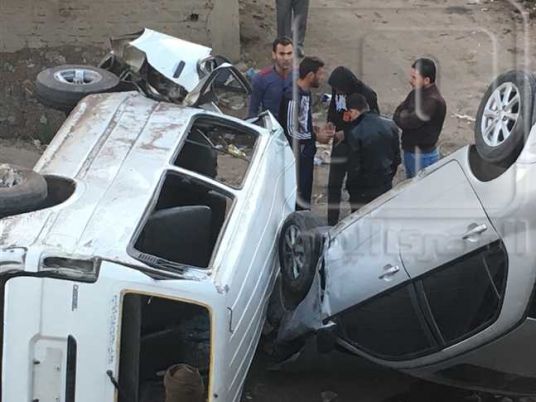 A major traffic accident at the Sohag-Assiut Road left 20 people killed and another two injured on Wednesday after a truck collided with a microbus. Governor of Upper governorate of Sohag Ayman Abdel-Moneim headed on Thursday morning to Al-Hilal Hospital to follow-up on the health conditions of those injured in the crash.
The two injured survivors were rapidly transferred to the intensive care unit located at Al-Hilal Hospital.
According to a statement released by Abdel-Moneim, Sohag governorate will work to provide all aspects of care for the injured and will help to speed up the burial procedures for those who were killed in the tragic accident.
The governor stressed his pain at the accident is painful and urged drivers to be careful on roads, not to exceed the speeding limits, especially when driving on highways at night. He emphasized that most accidents on highways are the result of reckless speeding by some drivers.
In the wake of the accident, the governor lifted the state of emergency and the maximum preparations in all hospitals in Sohag to receive the injured and dead.
Road safety is a major problem in Egypt. 5,343 people were killed in road accidents during 2016, the Central Agency for Public Mobilization and Statistics (CAPMAS) said in a report released in 2017.
The report indicated a rise in car accidents by 1.1% in 2016 compared to 2015, with 14,710 accidents taking place in 2015.
Beyond the 5,343 people killed in accidents, 18,646 were injured and 21,089 vehicles were damaged.
CAPMAS' statistics show that the highest number of accidents in 2016 occurred in August, with 1,403 taking place, followed by July with 1,367 accidents. The month with the lower number of accidents was December, which saw 1,027 incidents.
The report showed that the highest cause of accidents was human error, at 72.0%, followed by defects in vehicles and the technical condition of the car at 18.2%, and finally the environmental component of the roads condition, at 3.1%.