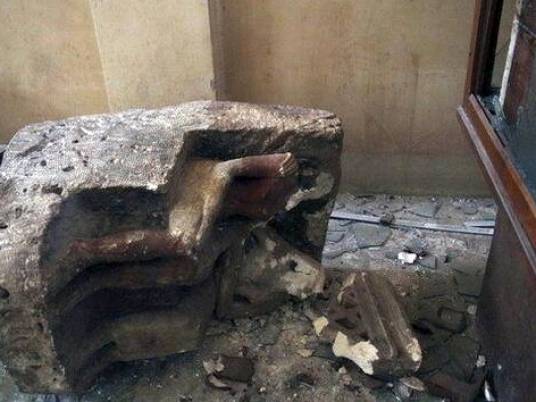 Minister of Antiquities Mohamed Ibrahim revealed that 216 pieces stolen artifacts from the Mallawi Museum were recovered. Five pieces were recovered earlier on Friday. Ibrahim pointed out, however, that there are still 873 stolen pieces remaining.
The state-run MENA news agency relayed Ibrahim's appreciation to the residents of Minya for responding to his pledge that they would not be prosecuted if they returned the stolen artifacts.
Two weeks ago, a group of extremists vandalized the Mallawi Museum and looted many of its contents. A list of the stolen artifacts was reported to all ports and to the Interpol and was also posted on the website of the International Council of Museums (ICOM).
Ibrahim said he is confident the residents will return the stolen artifacts because their understanding of the artifacts' historical and cultural value. He also added that the pieces are registered and cannot be sold.
For his part, Ahmed Sharaf, head of the Museums Department, said the pieces that were recovered on Friday were a bronze statue of Ibis (the god of wisdom and knowledge), two pottery vases, a bronze statue of the goddess Isis, and a papyrus with eight lines written in an ancient demotic language
"The pieces were taken to the Ashmonein Museum for restoration," said Sharaf.
Edited translation from MENA