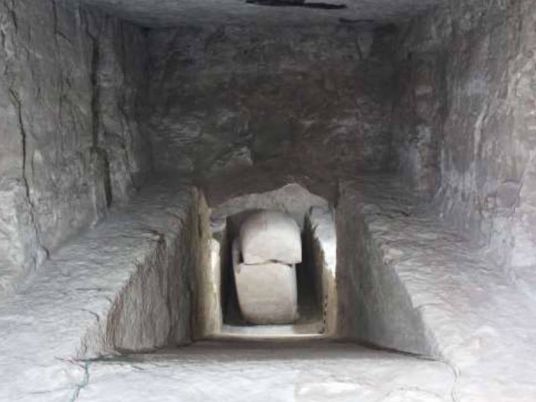 A burial chamber and sarcophagus dating from the 25th dynasty of ancient Egypt have been discovered in south Asasif, Luxor's west bank, by an Egyptian-American archaeological mission.
According to the Ministry of Antiquities, the team has discovered the burial chamber of a mayor who lived during the reign of Karabasken, the ruler of Thebes ruler and the fourth priest of Amun during the 25th dynasty (760 BC to 656 BC)
Elena Pischikova, director of the archaeological mission, said that these two significant finds were stumbled upon accidently during excavation work in the cult room of the tomb of a government official of Thebes.
Mahmoud Afifi, head of the Ancient Egyptian Antiquities Sector in the ministry, described the sarcophagus as "a unique example of Kushite sarcophagi in an elite tomb."
The sarcophagus is a red granite sculpture. It is 2,41 cm tall and 1.63 cm large, and does not show any engravings or paintings on its surface.
"Cleaning works will continue on the sarcophagus, the tomb and the surrounding area to know more about the necropolis," Pischikova concluded.
Egypt's treasure trove of ancient sites draws international archeological teams to the country all year round.
Earlier this summer, a Spanish mission from Chowan University uncovered the mummy of a woman from the 12th Dynasty inside a two-layered coffin of cedar wood.
The mission has been conducting excavations west of Aswan since 2008. One of the most important discoveries they have made was the oldest case of breast cancer in a woman who lived at the time of the Sixth Dynasty. The Tombs of Nobles, west of Aswan, include tombs for governors of Aswan who governed during the periods of the Old and Middle kingdoms of Egypt.