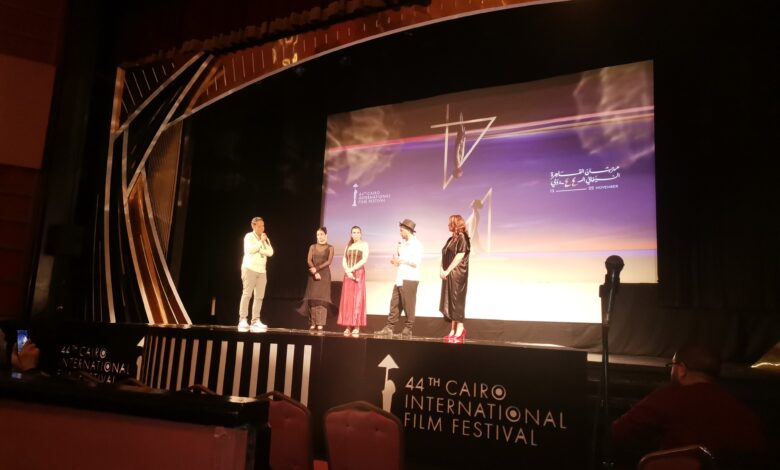 The 44th edition of the Cairo International Film Festival concluded on Tuesday with an award ceremony at the Grand Theater of the Opera House.
The conclusion of the festival was held in the presence of Hussein Fahmy, the festival's president and the Culture Minister Nevin al-Kilany.
A large number of artists won the Golden Pyramid Award for the best movie "Alam" (The Flag) produced by France, Tunisia, Palestine, Saudi Arabia, and Qatar, in the international competition.
The jury awarded Emmanuelle Nicot, director of "Love According To Dalva" the Silver Pyramid Award (Special Jury Prize for Best Director).
The movie is a co-production between Belgium and France for 2022.
While the Polish "Bread and Salt" movie won the Bronze Pyramid Award. The movie is produced in Poland.
Kosuke Mukai won the Naguib Mahfouz Award for Best Screenplay for the Japanese film "A Man".
The Best Actor award went equally between Sudanese actor Maher al-Khair for the "The Dam" movie and actor Mahmoud Bakry for the "Alam" movie, and Zelda Simpson won the Best Actress award for the "Love According To Dalva", directed by Emmanuel Nicot.
Walid Seif unfortunately called it the worst awards in years in the history of the Cairo Film Festival
The film critic Walid Seif commented on the prizes of the 44th session of the festival, and wrote on his  Facebook account: "In my estimation, the Cairo Festival awards with a few exceptions were the worst awards given by the festival in many years."
Other artist's opinions:
Ahmed Saad Eddin: Cairo Film Festival Awards are a "discord"
Writer Ahmed Saad Eddin described the festival's awards on his personal account on Facebook saying "Artistic discord…90 percent of the Cairo Film Festival awards are incomprehensible to the audience and critics, and even to the jury themselves!"
The closing ceremony was missed by most of the young stars as well, as was the case in the opening ceremony, as if young guests were excluded.
Most of the filmmakers, whether from the Middle East or the world couldn't attend and it was strange to see that they recorded words and video messages to be broadcast in the ceremony, instead of attending in person to receive their awards.
This gave the impression that they had knowledge of their win before the start of the ceremony.
The jury of the international competition was chaired by the Japanese director Naomi Kawase, and its members were the Egyptian director of photography Nancy Abdel Fattah, the Indian actress Swara Bhaskar, the Egyptian composer Rageh Daoud, the Italian actress Stefania Casini, and Mexican director Joaquin del Paso.