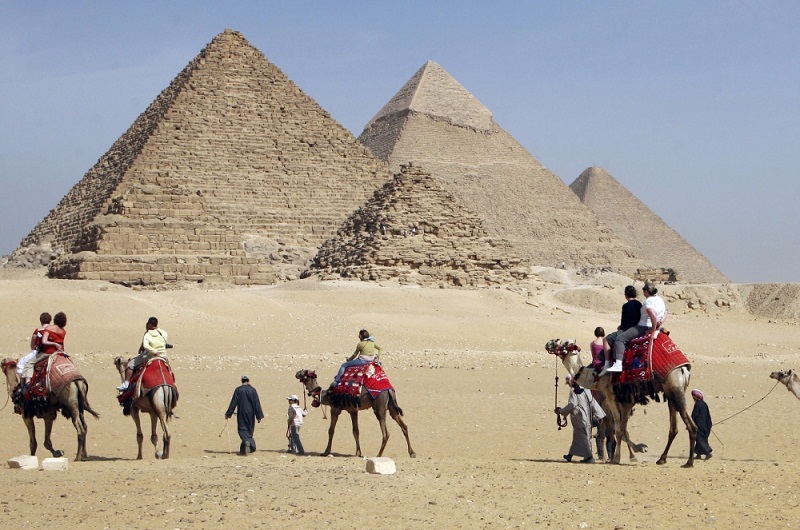 France's Ambassador to Egypt Stéphane Romatet recently revealed that 700,000 French tourists visited Egypt during 2019, according to a report from Alborsa news outlet, in another indication that the country's tourism sector is on its way to recovery after years of political instability.
Meanwhile, the number of French tourists who headed to Egypt in 2018 increased by 146 percent, according to prominent travel Magazine TourMaG.
The French ambassador had predicted a rise in French tourists to Egypt in a 2017 press conference, pointing out as well that 50,000 French companies were currently investing in the Egyptian market at the time.
"Tourists no longer prefer going to Tunisia or Turkey only — Egypt is back in the competition again after years of instability," the magazine previously reported, reflecting government efforts to boost the ailing tourism sector and ensure foreign travelers are safe in Egypt.
Romatet pointed to years of political instability and economic woes brought on by the flotation of the Egyptian pound in November 2016 and key subsidy cuts, insisting that now is the perfect time to boost foreign tourism in Egypt.
French investments in Egypt are valued at €5 billion across various sectors, including transportation, health, and energy, he said, adding that trade exchange between the two countries is estimated at €2 billion, with French exports to Egypt having reached nearly €1.5 billion annually.
Romatet says he will devote the upcoming phase to promoting Egypt in France, aiming to increase investments boost other joint projects between the two countries as well. The French Ambassador named Egypt as "Africa's Gate" adding that he expects that French tourists' flow will increase in 2020.
Earlier in November, AFAR, an award-winning travel magazine, ranked Egypt fourth among the world's 10 Fastest Growing Tourist Destinations, with the country's tourism sector having recorded a 36.8 percent increase. It was not the first time the country was featured in the magazine — Egypt topped AFAR's rankings in 2018 when growth in the tourism sector reached 55.1 percent.
Egypt also topped The Independent's new travel recommendations list for 2020 this month, with the newspaper urging people from around the world to pay a visit to Cairo's much-anticipated Grand Egyptian Museum.
Egypt also made it to the top of the list of emerging or "off-the-beaten-path" destinations for Americans in 2020, according to the results of annual travel trends released by the United States Tour Operators Associations (USTOA).
"Egypt topping the list is the epitome of a destination comeback story," said Terry Dale, president and CEO for USTOA. "It reinforces a strong return in popularity and demand among travelers, after several challenging years," resumed Dale.
According to official figures provided by The Independent, 11 million people visited Egypt last year. Moreover, the English newspaper has predicted a remarkable comeback for the Egyptian tourism sector, especially given the resumption of flights to the South Sinai vacation spot Sharm el-Sheikh.
The first UK flight to Sharm el-Sheikh since the 2015 ban landed last week at Sharm El-Sheikh International airport, following a four-year hiatus after a bomb exploded on a Russian plane flying over Egypt's Sinai, killing all 224 people on board.
In its latest report "Egypt tourism 'fastest growing' in North Africa," the UK's leading tourism publication Travel Weekly linked the noticeable growth in Egyptian tourism to improved security in the country.
Moreover, according to the World Travel and Tourism Council (WWTC), tourism in Egypt makes up 11.9 percent of the country's total economy. The tourism sector grew by 16.5 percent last year, with some arguing that the boost to Egypt's ailing tourism industry is owed to improvements in security.