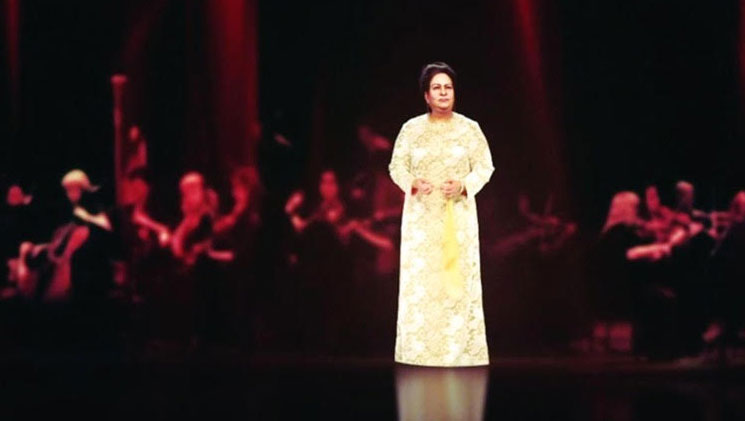 MBC Group will evoke the "good old times" through two Umm Kulthum concerts in Cairo's Abdeen Palace this November, where the singer will be represented on stage using hologram technology, accompanied by the oriental takht.
Organized by RMC, the concerts will be held at the historical palace over two days, beginning at 8 pm on Friday and Saturday November 20 and 21.
Producers of the show NDP the the Voice of Cairo for Audios and Visuals hope to simulate the atmosphere of Umm Kulthum's historic live concerts from the last century.
These concerts will be the first mass concerts held in Abdeen Palace for a very long time, as the coronavirus pandemic and subsequent precautionary measures have put a halt to live music.
Young artist Sana Nabil, a relative of Umm Kulthum who had previously drawn attention during her participation in the "Arabs Got Talent" TV show, will sing "Amal Hayaty" (My Life's Hope) and "Ansak" (Forget You) at the two concerts.
Umm Kulthum's hologram will sing a number of the singer's famous songs, including "Enta Omry" (You Are My Life), "Alf Leila w Leila" (One Thousand and One Nights), "Seerat al-Hob" (The Love Story), "Lessa Faker" (Do You Still Remember?) and "Al-Atlal" (The Ruins).
Initially only one concert was scheduled for Friday, but Saturday was added after organizers received increased public demand for tickets. 
Hologram concerts use virtual technology to construct three-dimensional images from the diffraction of light, making for a lifelike picture.
The upcoming concert is not the first of its kind in Egypt.
In April 2019, a hologram of legendary Egyptian singer Abdel Halim Hafez performed in Manara Hall in New Cairo alongside famed Lebanese singer Carol Samaha in the first hologram concert in Egypt. Titled "Helm" (Dream), the concert was directed by George Kalta and accompanied by a live orchestra of almost 45 musicians, according to Masrawy.
Hologram concerts of the iconic Umm Kulthum have previously been held in the UAE as well as Saudi Arabia, with the Dubai Opera House putting on a concert featuring a hologram of the Egyptian legend just nine months after her first ever hologram appearance at Saudi Arabia's Tatora Festival.
Attended by a group of ambassadors and officials coming from different countries across the world, the concert in Saudi Arabia featured a hologram of Umm Kalthum in her iconic diamond jewelry and sporting a classy evening gown. The performance was accompanied by an orchestra of 20 musicians.
Umm Kulthum's greatest hits include Alf Leila Wa Leila (1969) and Enta Omry (1964). The two songs were performed in the UAE and Saudi concerts.
The beloved singer, one of the highest selling Middle Eastern musicians of all time, represents one of the most revered cultural icons of the 20th century and is known around the world for her extraordinary vocals, having been dubbed "kawkab al-sharq," or star of the east.
Edited translation from Al-Masry Al-Youm