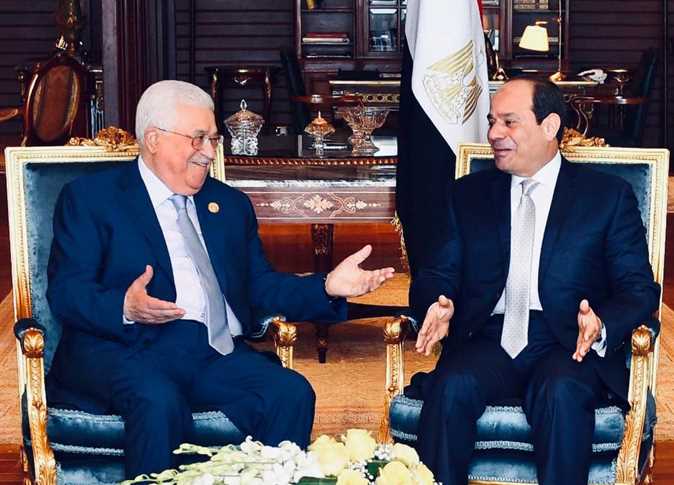 Palestinian Ambassador to Egypt Diab Allouh said on Friday that the Palestinian President Mahmoud Abbas will arrive in Cairo on Saturday in an official visit, during which he will meet President Abdel Fattah al-Sisi and the Arab League to discuss the 'Deal of the Century'.
Allouh, who is also the permanent representative of Palestine at the Arab League, said that Abbas will also attend the meeting of the extraordinary session of the Council of the Arab League at the ministerial level on Sunday, held at the request of Palestine, to discuss the situation in the occupied territories.
The Arab League said that there are important developments regarding the announcement of the so-called "Deal of the Century," and that these developments have made the Palestinian side call for the meeting to mobilize the Arab position against these developments.
Abbas will brief Arab ministers on recent developments in the situation, and what is likely to be announced regarding the "Deal of the Century" and the mobilization of the Arab position against these repercussions, according to Allouh.
"Regardless of what is happening in the media about this deal, the overall picture is not reassuring on the matter that this proposal is positive, balanced and guaranteeing the Palestinian rights," the Assistant Secretary General of the Arab League Hossam Zaki said in statements on Friday.
The Arab summit in Tunis last month discussed the Palestinian case.
"Our information and our understanding that there is a desire on the part of (Abu Mazen) to put the matter again to the ministers in order to put them in the form of developments that he considers very important, paving the way for the so-called Deal of the Century," Zaki said.
He added: "We feel that what is raised will not be in keeping with the Palestinian right, and may be biased to the Israeli side at the expense of Palestinian rights, which is difficult to accept at the Arab world."
Edited translation from Al-Masry Al-Youm