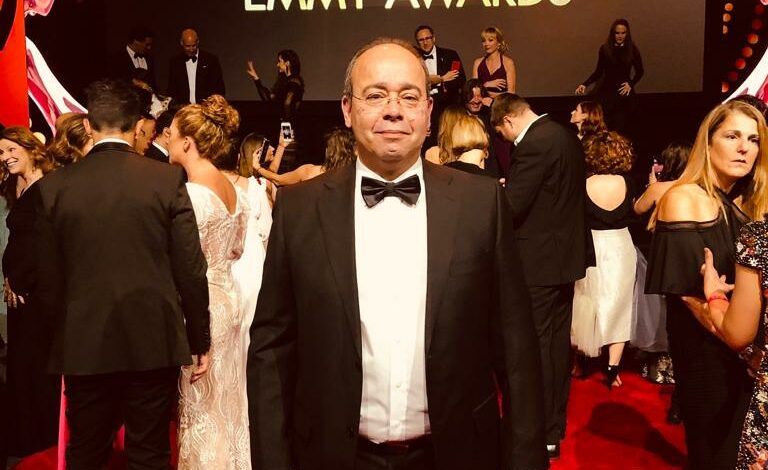 The International Academy of Television Arts and Sciences (Emmy) announced the election of veteran writer  Abdel Latif El-Menawy, managing director and editor-in-chief of Al-Masry Al-Youm newspaper, as a member of the academy, which organizes the International Emmy Awards.
Menawy's election as a member of the academy comes after his participation seven consecutive times in the Emmy Awards jury in the fields of news, news coverage and documentary coverage.
Menawy stressed the importance of the academy, which celebrates outstanding television production, whether in the field of news or drama, especially that it has become a huge and no less important or creative than the film industry.
This all comes amid a boom in huge television networks globally, and in a technical development sense.
The field of cross-border Internet broadcasting services then raises the ceiling of competition to attract more audience members that can relate to entertaining content.
Menawy stressed that heated competition is in favor of audience, amid the diversity of television production and its transcendence of local borders.
This can be seen in the nominated and Emmy-award winning works this year.
The winners are from 23 countries which competed in 15 categories.
They have received millions of views in all countries around the world.
The awards of the 50th edition of the Emmy Awards in the field of drama and television were announced on Wednesday at the Academy's annual celebration.
A British series won seven of the awards in the main categories, where the BBC UK thriller series "Vigil" picked up best drama series, while "Sex Education"won the Emmy Award for best comedy series.
The Emmy Award is a US award launched for the first time in 1949, and it was given to various television series and programs.
The Emmy Awards is organized by the International Academy of Television Arts and Sciences, an organization made up of media and leading personalities from more than 50 countries and 500 companies from all television sectors around the world.