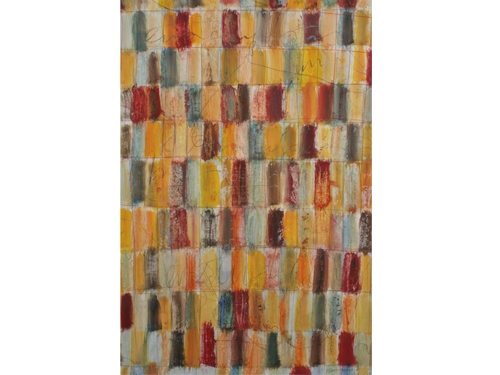 From Damon Kowarsky's quiet charcoal cityscapes, to Qarm Qart's psychedelic depictions of Cairo street scenes, recent exhibitions at Mashrabia Gallery have highlighted the various ways Cairo inspires visiting or transplanted artists.
Mashrabia's latest offering, a collection of paintings by Greek artist Yorgos Papageorgiou, is no exception. Through a selection of 26 abstract paintings on paper, Papageorgiou expresses a subconscious and emotional interaction with the Cairene tableau.
Papageorgiou moved to Cairo one year ago, from Beijing, where he lived for five years. He has led a somewhat transient life since he left his home country at the age of 18, drawing on the experience of moving from place to place in his work.
"When I travel, meet extraordinary people, or have other experiences, I record these images in a subconscious way," he told Al-Masry Al-Youm.
His work does not record places or experiences representationally. Elements of his paintings nonetheless reflect changes in his visual environment, and he sees his works since he moved to Cairo as more colorful. "Cairo has a particular light," said Papageorgiou.
Some of his Beijing work draws directly from such themes as Chinese calligraphy, and occasionally includes fragments of faces of Chinese people. His work in Cairo is less explicitly connected to the place it was made, and is better off for it. But Papageorgiou's paintings at Mashrabia do hold in them a touch of Cairo's hazy light.
On a thick base of dark cream, Papageorgiou layers color on color, often working with a grid laid out like a quilt. Though generally reluctant to speak about his work (the exhibition includes no artist statement), he described the roots of the images he creates as his own emotional experience in the city.
"We [all] have feelings, and for me these feelings come out on paper," said Papageorgiou.
But while the artist is careful to keep his work from being tied to worldly specificity, through his titles he connects his pieces to moments and experiences.
In "Dislocation" the familiar grid has gone off-kilter, and slides downwards toward the edge of the painting. "The affair" features thick splotches of a deep red, which brings to mind hearts, flowers, blood, and above all sharp, biting emotion.
In two paintings entitled "The News," composed of strips of newspaper plastered into layers of paint, the eventful past year in Cairo quietly emerges in Papageorgiou's abstract world. The paintings portray the feeling of having current events imbedded in your mind and experience. The news might work its way into the internal landscape of anyone living in Cairo in 2011.
It may seem odd to draw such explicit readings from emphatically nonrepresentational work. But Papageorgiou's titles make his paintings strangely literal. Titles such as "From Beijing to Cairo," and "It's Time Now," make the work explicitly autobiographical, referring to moments that can be clearly read as experiences in the life of the artist. His paintings would be compelling enough without their explanatory titles. It is almost as if the artist cannot quite bear to leave his work completely abstract.
Papageorgiou's work as a whole is rewarding to view, and deserving of sustained attention. The works reveal themselves slowly, with small variations in color and line; places where paper has been collaged into the work emerge over time. Still, there are several standout pieces in the exhibition. "Standing up now" is patterned with long black lines topped with red splotches, sharing the same blood-like tone as the red marks in "The Affair." The fragmented composition feels freer, and the artist's own gesture more immediately visible.
One of the smallest paintings, "Crossing the Sea," is painted a dark marine blue and covered in dark squiggling lines recalling text, and broken apart by strips of white, like a letter washed up from the ocean. The painting and title combine seamlessly into one poetic expression.
Standing firmly in the Abstract Expressionist tradition, Papageorgiou is at work on a project many artists before him have tackled: that of creating a pure expression in the physical world of interior emotion and experience. His works do so in a unique and beautiful way.
Yorgos Papageorgiou's paintings will be open for viewing at Mashrabia Gallery from 11 am to 8 pm until 17 November. The gallery is located at 8 Champollion Street, Downtown Cairo.