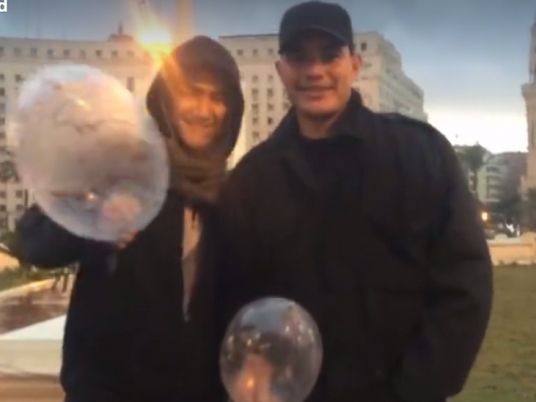 Shady Abuzaid, a correspondent for the puppet show Abla Fahita, said he expects to be arrested in the coming days following the uproar over a prank video he created with 20-year-old actor Ahmed Malek.
The two-minute video showed Malek and Abuzaid blowing up condoms and giving them to police as "fake balloons" to celebrate Police Day in Tahrir Square. The puppet show correspondent is now facing charges of insulting and defaming the police, which could entail a six-month jail sentence and a LE10,000 fine.
Abuzaid said he will not apologize for the video and does not plan on resuming his work with the puppet show. He said he doesn't know if the show will prevent him from returning, but he read a statement from the show that renounced him for the prank video and has decided not to return.
Abuzaid also slammed down claims that he is a member of the Muslim Brotherhood, adding that he was an opponent to them and was injured during protests outside Ettihadiya Presidential Palace in 2012.
"I don't want to get myself into such senseless talk," said Abuzaid. "No matter what people do, people will say he belongs to the Muslim Brotherhood. I don't have to defend myself and tell anyone what I did. People can classify me as they want."
During a phone interview on Al-Araby TV channel, Abuzaid said his privacy was attacked after old photos of him and his sister were stolen and put on public display.
"I don't know why they are panicked," said Abuzaid. "Why has a great country with great institutions been affected by a two-minute video. I believe our government is much bigger than this."
When asked about the possibility that he may apologize for the video, like his co-star Malek did, Abuzaid said he cannot find a reason to apologize. "I think if there's anyone who should apologize, it should be them [the government]. They should stand trial for the violations they committed."
Abuzaid said the Interior Ministry should be occupied with more important issues, like terrorism.
He added that the attack against the video is the reason it went viral. "If they ignored it, no one would have paid attention to it," he said. "The video is really simple. It's a two-minute comedy."
He also said that he heard about lawyers who filed complaints against him. "I'm supposed to be arrested in the coming few days as far as I understood."
"Not all of the policemen are bad, of course," said Abuzaid, adding that before the anniversary, the Egyptian Police page, which is run by policemen, posted threats to revolutionaries which provoked anger. "We will not protest because we know that if anyone did we would be killed. Yes, you can kill us and do whatever you want. OK, we will make fun of you," he added.

Abuzaid said he will file lawsuits against media professionals who offended him. "They insulted me. So long as you don't accept the insult, I don't accept it either."

Edited translation from Al-Masry Al-Youm