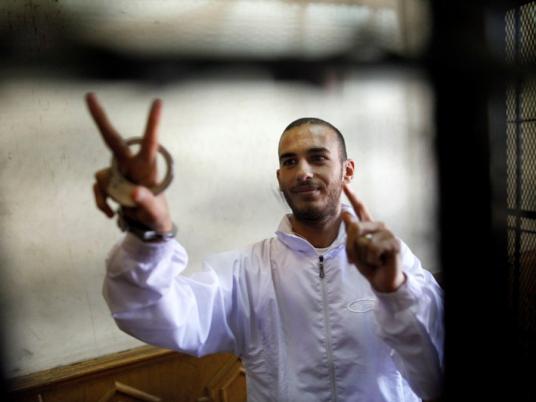 After her son, atheist activist Alber Saber, was arrested on charges of blasphemy, Kariman Meseha says the prosecutor who interrogated her and her son asked, "How do you perform your religious rituals?"
"I replied, 'This is something between me and God," Meseha said during a press conference last Thursday.
Saber, a 27-year-old computer science graduate, was arrested on 13 September after neighbors accused him of uploading sections of the controversial film "Innocence of Muslims." He was referred to court on charges of blasphemy against Islam and Christianity, promoting atheism and making films in which he discusses his lack of religious beliefs. His trial began Wednesday and was adjourned until October to give the defense more time to prepare their case.
An angry mob tried to break into Saber's home before his detainment, and while his mother claims she called the police to protect her son, they detained him for "his own protection."
Later, when she went to the police station to pick him up, she was surprised to find that charges had been pressed against him rather than the mob that she says tried to break into her home.
Meanwhile, Coptic English teacher Beshoy Kamel, 32, arrested in July for allegedly posting cartoons on Facebook that were blasphemous to Islam and insulted President Mohamed Morsy, was sentenced last week to six years in prison in Sohag Governorate. He received three years for blasphemy against Islam and Prophet Mohamed, and three more for defaming Morsy.
Angry protesters waiting outside the courthouse slammed the verdict, however, saying it was too lenient and chanting, "[Anyone] but Prophet Mohamed."
Both Saber and Kamel were arrested under Article 98(w) of the Penal Code, which outlaws blasphemy. The article states: "Anyone who exploits religion to promote radical ideas with speech, writing or any other method with the intent of inciting strife or contempt or blasphemy against [Islam, Christianity and Judaism] or factions affiliated to them, or harming national unity, will be detained for a period of no less than six months and no more than five years, or [be fined] no less than LE500 and no more than LE1,000."
The Constituent Assembly is debating proposals to deeper embed anti-blasphemy laws in the constitution. Meanwhile, blasphemy has become a clarion cry through which several political actors seek to rally support in pursuit of broader ambitions.
Adel Ramadan, legal officer at the Egyptian Initiative for Personal Rights, says Article 98 leads to the prosecution of religious minorities.
"This law allows the courts and the prosecutors to fabricate charges and convictions against people whose religious beliefs aren't in line with the Muslim majority," he says.
Hany Ramses of the Maspero Youth Union, a Coptic organization, echoes Ramadan, saying the law is too broad and is mostly used against Copts, who represent around 10 percent of the country's population.
In Egypt, where people are labeled by their religious beliefs, public pressure has had a great effect on court verdicts and arrests related to blasphemy against Islam, rights lawyers say. ID cards cite one's religion, and it's very common for people to ask new acquaintances whether they are Muslims or Copts.
These kinds of cases have been plaguing the offices of rights lawyers for decades.
Hossam Bahgat, head of the Egyptian Initiative for Personal Rights, says he used to get at least two cases a year related to this blasphemy law. After the revolution, the number spiked to 14 cases in a year and a half.
"Everyone expected that after the revolt that called for freedom as one of its main demands, the use of the blasphemy law would decrease and people would be more tolerant," Ramadan says.
He believes the emergence of hardline Salafis — who had lived under the radar and were subjected to recurring crackdowns by security forces during former President Hosni Mubarak's reign — as a potent political force is one reason why accusations of blasphemy are now more common.
One prominent Salafi activist, TV presenter Khaled Abdallah, aired the controversial film on his show on the Islamic Al-Nas channel. Many believe this broadcast ignited the protests outside the US Embassy, which left one protester dead.
The owner of the Islamic TV channel Al-Umma, Ahmed Abdallah — who is known as Abu Islam — is accused of defacing the Bible during the US Embassy protests, issuing a challenge to US pastor Terry Jones, who famously burned copies of the Quran in 2010. On Tuesday, Abdallah was also referred to trial on charges of contempt of religion.
Blasphemy and the constitution
Last week, the Constituent Assembly's sessions were peppered with speeches defending the Prophet and stressing that any defamation against him was a "red line," not to be crossed.
"The Prophet, his brothers, the [other] prophets, his companions and his wives are a red line," assembly member and Freedom and Justice Party leader Hussein Ibrahim said during the Constituent Assembly's session on 18 September.
He implied that a constitutional measure on the subject was inevitable.
"If we need an article in the constitution to guarantee this issue and [protect sanctities], then we don't even need to pass it," he said, suggesting that people's support for such a constitutional measure would assert itself somehow, independent of the will of assembly members themselves.
The Constituent Assembly is expected to discuss an article outlawing religious blasphemy this week, according to its members.
Nader Bakkar, spokesperson of the Salafi-oriented Nour Party and member of the Constituent Assembly, has said the party will propose a law "specifically against insulting the prophets and their companions."
Ramses is critical of this idea. "What about other religions? Won't they be protected against blasphemy in the constitution?" he asks.
Ramadan points out such articles would curb freedom of belief and expression, and therefore violate international treaties signed by Egypt.
Mohamed Mohey Eddin, head of the assembly's Defense and National Security Committee, says there are others in the assembly who favor an article guaranteeing "the unity of the country, the safety of its lands and sanctities."
"The word 'sanctities' says it all. We don't need to include further details in the article," Mohey Eddin says.
Ramadan says the suggested article is being used to mobilize public support for the new constitution, which has been under fire even before its completion.
Rights activist Manal al-Tiby resigned from the Constituent Assembly Monday, warning that the new constitution would be "worse than all of the previous Egyptian constitutions."
The 100-member assembly has been criticized for being dominated by parties with strong Islamic references, while women, workers, liberals and leftists have been mostly sidelined.
Appeals for an international law
Al-Azhar last week called on the United Nations to issue a resolution against blasphemy. The call was backed by several political parties and the Arab League. But such calls seem far-fetched.
There is no international mechanism to implement such a law, and Western publics highly value the principle of freedom of expression, Ramadan says. He also thinks Muslim countries themselves would find it difficult to enforce such a law impartially.
"A law like that would force Muslim-dominated countries to respect and accept all religions and their practices, including pagan ones, which is something Arab leaders aren't willing to do," he says.
Nabil Abdel Fattah, a political analyst at Al-Ahram Center for Political and Strategic Studies, says he thinks the calls for such laws amount to little more than political maneuvering.
"They want to impose these laws so they can use them in their political competition and mobilize the public in their favor," he says.