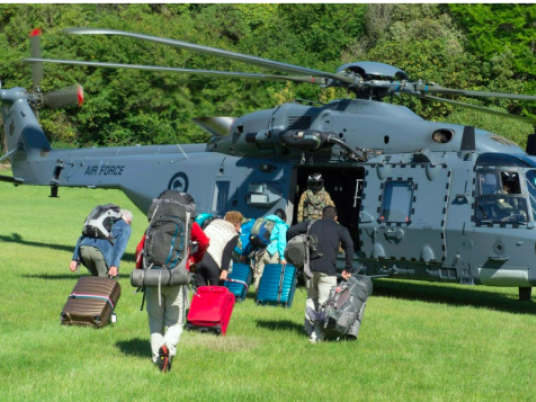 Rescuers in New Zealand on Tuesday began airlifting relieved tourists stranded by a 7.8 earthquake that devastated parts of the South Island coast and sparked up to 100,000 landslides.
Military helicopters started ferrying the first of 1,200 holidaymakers trapped in the seaside town of Kaikoura, which bore the brunt of a quake that claimed two lives when it struck early Monday.
Officials said the US and Japanese militaries would also join the relief effort.
Huge landslides cut Kaikoura's road and rail links, and police said water was running low, power was intermittent and hundreds of people were sheltering in evacuation centres.
The town has a population of 2,000, which Prime Minister John Key said was bolstered by the tourists, mostly international backpackers attracted by the area's popular whale-watching cruises.
Key said getting them out safely was top priority and four air force helicopters had begun transporting them to nearby Christchurch, with numerous civilian choppers also helping the airlift.
The naval ship HMNZS Canterbury was steaming to the scene and will take hundreds more when it arrives, likely Wednesday.
Key estimated the quake repair bill would reach billions of dollars but said the first job was delivering much-needed supplies to the town.
"It's more water and food, it's more chemical toilets, it's fixing up the road access, getting those tourists out and then ultimately the big clean-up job," he told TVNZ.
– 1,200 aftershocks –
The Defence Force said a C-103 Hercules was on standby to drop supplies, while officials accepted a US Navy offer of two MH-60 helicopters and assistance from Japan, the exact nature of which is still under discussion.
Auckland holidaymaker David Foulds said he was relieved to get out of Kaikoura after the frightening ordeal.
"We thought it was some guys shaking the car, we didn't know what it was," he told AFP. "It (the car) was jumping up and down. It frightened the life out of me."
The tremor, one of the most powerful ever in the quake-prone South Pacific nation, hit just after midnight on Monday morning, with more than 1,200 aftershocks complicating relief efforts.
Heavy rain and driving winds were hampering clean-up efforts, although life outside the main Kaikoura disaster zone was slowly returning to normal as roads opened and power was restored.
The quake triggered numerous landslides that dumped mountains of rocky debris on a main highway and ripped railway tracks 10 metres (30 feet) off course.
Huge fissures opened up in roads and some houses were rocked off their foundations.
New Zealand's official GeoNet said reconnaissance flights had noted between 80,0000 to 100,000 landslips.
"The landslides that have occurred as a result of the earthquake remain dangerous. Material can move at any time," it said in warning people to be cautious.
– Trump call –
One person died at a historic homestead that collapsed at Kaikoura, with another killed at a remote property north of Christchurch.
Experts said the relatively low death toll was because the quake was centred on a sparsely populated area and hit at night, when people were in their homes.
It was felt across most of the country, causing severe shaking in the capital Wellington, about 250 kilometres (155 miles) away.
The tremor ignited painful memories for Christchurch residents, which was devastated five years ago by a 6.3 tremor that killed 185 people.
It also set off a tsunami alert, with seaside properties evacuated amid fears of five metre (16 feet) waves, which failed to eventuate.
Key flew over the quake's epicentre on Monday and said he was shocked to see such "utter devastation".
The New Zealand leader admitted he was concerned that tourism, the country's biggest export earner, would take a hit after images of the damage flashed around the world.
"People worry about earthquakes," he said, adding that many world leaders had phoned him to offer condolences.
But in the chaos that followed the quake he missed a call from US President-elect Donald Trump.
"I didn't see it. It was a crazy time," he said.
"Look he is trying to make contact and that'll happen sometime pretty soon… I'll keep my phone on."