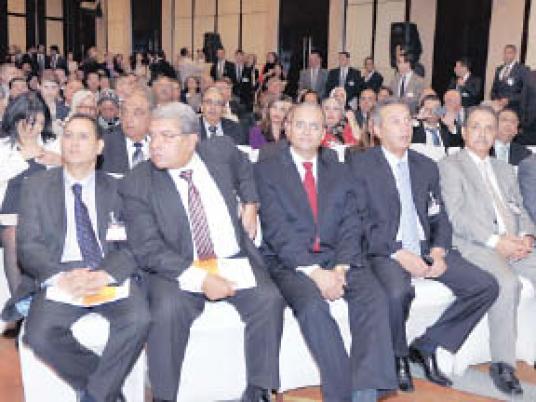 Officials are making a concerted effort to assure foreign and domestic investors that the climate for business is safe and friendly after the stock market took a hit Monday due to some tough rhetoric on corporate corruption from President Mohamed Morsy.
In a speech Saturday to commemorate the 1973 October war with Israel, Morsy said government watchdogs were in the process of investigating several unnamed private companies on accusations of corrupt practices with the former regime.
Following his statement, the stock exchange's largest index, EGX 30, dropped a significant 2.42 percent Monday because of fears of a market-wide crackdown.
On Tuesday, officials seemed to be trying to control the damage and calm fears of a witch hunt. Amid a series of guarantees, they told investors they had no reason to close their pocketbooks.
"We want Egypt to be a Mecca for investors," Prime Minister Hesham Qandil said in his remarks at the Euromoney conference, a gathering of investors, media, diplomatic and business leaders. Organizers say the conference is meant to help restart investment in the country's ailing economy.
"Allow me to confirm that the Egyptian government is committed to economic reform and free-market economics," he said.
Addressing what he called "rumors" that had caused the recent dip in investor confidence, Qandil said the government would respect all existing contracts, and abide by the laws under which they were signed.
"Any action taken by the government will not be retroactive," he said.
At the conference, other officials also stressed the importance of foreign investment returning to pre-25 January 2011 levels. The country has been trying to attract foreign investors after many left through the past year and a half of unrest.
Foreign and domestic capital has yet to turn out in full, amid prolonged negotiations for a US$4.8 billion dollar loan from the International Monetary Fund, a lack of a clear economic reform plan, dwindling foreign reserves, an expensive subsidy plan and a growing budget deficit.
"All of my faith is in the return of investment," Finance Minister Momtaz al-Saeed said.
Officials and finance leaders also decried the obstacles to investment in the country.
Investment Minister Osama Saleh said the two main challenges to investors are instability and production halts caused by labor strikes, and bureaucratic legal hurdles.
He cited changes he made to the investment law in January 2012 that allowed for amicable resolutions of disagreements between private companies and the government as the most significant step toward bringing back capital to Egypt.
Business leaders also said the country has a long way to go before it can claim to be a welcoming climate for foreign investors, as the stock market's reaction to Morsy's remarks last week demonstrated.
They called for the government to streamline legal procedures that issue licenses and approvals for businesses, and to foster a bureaucracy that is accountable, but not rendered ineffective by fear of corruption accusations.
"The challenge is creating an environment where the bureaucracy can actually get things done," said Ahmed Heikel, chairman and founder of Citadel Capital, a Cairo-based private equity firm. "You can't expect someone who is going to appear before the public prosecutor on corruption in the morning to go on in the afternoon and approve a license for an investing corporation."
Pressing issues
This week's Euromoney event had a particularly momentous air. Falling after two months packed with conferences and campaigns focusing on economic development and investment, it seemed to be one last platform for policymakers to vow that the contentious IMF loan will arrive, foreign investment will return, and the government will soon no longer be hanging by a fiscal thread.
Euromoney, a London-based economic magazine, serves as a sort of matchmaker for capital and markets around the world.
Its website says it is the foremost organizer of conferences "for cross-border investment and capital markets for portfolio and direct investors, financial intermediaries, corporations, governments, banks and financial institutions which hosts conferences in order to match investors and business leaders with policymakers." It has been organizing events in Egypt since the mid-1990s.
Tuesday's speeches were full of reassurances that the country's economy would, indeed, improve. Organizers pulled out all the stops. It was attended by a series of high-profile government and Central Bank of Egypt officials. In addition to the prime minister, the finance minister and investment minister, a Central Bank official even made a rare media appearance.
Rania al-Mashat, deputy governor of the Central Bank, told conference attendees that the country's banking system had so far weathered the uprising and political uncertainty without a large shock to the nation's currency, or rapid inflation.
She told one story about how, in the days last February when security forces disappeared from the streets, army tanks transferred piles of cash to the safest location — Cairo International Airport. The Central Bank was in a good position to handle the economic downslide, she said, because it had a cushion of liquidity, or cash.
Now, officials' main concern was rising prices, she said, adding that the damage inflation would inflict on most citizens would be more devastating than any element of the economic fallout since the 25 January revolution so far.
"Fighting inflation should be a national cause," she said. "If prices were to rise, it would be a national catastrophe."
The conference's pressing issues like short-term concerns about looming subsidy removal, a widening government deficit and cash problems dominated the day, instead of a focus on the long-term economic plan.
"For investors and markets, the main concern here is having clarity on a timetable for the imminent liquidity crisis," Barclays Middle East Senior Economist Alia Moubayed told Egypt Independent. "There's no doubt the economy cannot continue with the current deficit."
A more detailed discussion of Morsy's plan to revive the economy can wait until the government has its head out of the water, she said. Then a discussion with society can give a new, revamped economic program its legitimacy.
Until now, details released about the Renaissance Project, an integral part of Morsy's presidential platform, are few. Hussein al-Qazzaz, who advises the president on integrated development, said that though Egypt doesn't have a straightforward economic blueprint yet, it will soon.
He said the government is preparing to conduct a dialogue with experts in all sectors of the economy to ask them for advice on how to get industries moving again.
Abdallah Shehata, an economist and Freedom and Justice Party member who participated in a panel at the conference, said the plan will likely focus on four points: reducing unemployment, changing the country's consumption-driven economy into one driven by investment, increasing support for small- and medium-sized businesses, and creating new, affordable opportunities for job training. He had no details beyond that.
He said there was no clear timetable for this, but that it would be enacted in the coming year.
"What we believe in is gradual change," he said. "We are trying to think outside the box."
When asked whether the government would have time to begin serious social dialogue in the coming year with a time bomb of a budget deficit, he shook his head.
"No, the president wants to begin the discussion in the coming months," he told Egypt Independent.
This piece was originally published in Egypt Independent's weekly print edition.