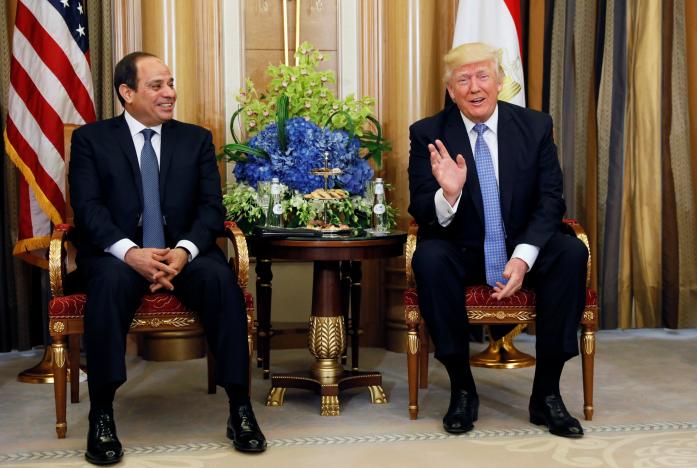 Egyptian President, Abdel Fattah al-Sisi, received a phone call from US counterpart Donald Trump, on Thursday evening, during which Trump reaffirmed the strength of the friendly relations between Egypt and the United States.
The call comes three days after the US administration's decision to deny Egypt almost $100 million in aid and hold back another $195 million, citing "lack of progress on respect for human rights and democratic standards."
During the phone call, the US president expressed his keenness to further develop relations between the two countries and overcome any obstacles that may affect them.
Sisi expressed his appreciation to Trump and stressed the importance of continuing intensive coordination and consultation between the two countries on all issues of common concern, thus enhancing the strategic relationship and achieving the interests of their citizens.
White House press secretary, Sarah Sanders, responded to a question about the change in tone with Egypt, during a press briefing on Thursday.
"The United States has always been committed on human rights issues, and we'll continue to do that.  And if I have further updates, I'll let you know," Sanders said.
Ambassador Gamal Bayoumi, the former assistant of the Egyptian Foreign Minister, said that the phone call between Trump and Sisi is the beginning to solving problems caused by the American decision.
Bayoumi explained that Trump knew cutting aid was not an economic crisis for Egypt, but the problem had more to do with an issue of dignity on the Egyptian side.
"The US administration knows very well that it can not do without Egypt, because Egypt is the center of power and balance in the Middle East, and there are many American administrations that completely refused to cut aid to Egypt, and the decision came from Congress," Bayoumi added.
Ambassador Hussein Haridi, another former assistant of Foreign Minister, said that the phone call was merely an attempt to calm the atmosphere. Congress is the main body responsible in this case.
"We have to deal with the issue in a way that is free of tension and discomfort, think about the future, and how to develop an independent foreign policy that defends Egypt's national interests, thus we must seriously consider giving up aid," Haridi said.