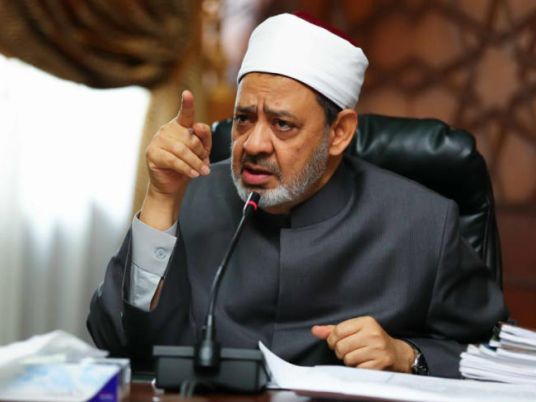 The Al-Azhar's newspaper Sawt Al-Azhar (Voice of Al-Azhar) page on Facebook published part of an interview with the Al-Azhar Grand Sheikh Ahmed al-Tayeb that took place in 2019, talking about Al-Azhar's position on wife-beating and beating others in general, after the issue was recently raised.
The page said that it published "the part that MBC Masr did not want to broadcast", while discussing the issue of beating, especially wife beating, and Al-Azhar's position on it.
In the video clip, Tayeb talked about "preventing beating, not only for a woman or a disobedient wife, but for [everybody] because beating is an insult to a person, and it may cause them a [psychological] complex that does not leave them until they enter their grave."
Tayeb said he did not object to discussing the matter and raising it for discussion by the House of Representatives, the judiciary, and Al-Azhar.
"I hope to live until I see that beating an Arab Muslim is a crime, and the one who hits is punished like a criminal," he added.
Researcher Islam al-Beheiry commented, during a program on MBC Masr, on a draft law submitted by an MP to increase the penalty for wife-beating, saying Al-Azhar's opinion "supports the husband's beating of his wife with terms and conditions."
"Al-Azhar's words are wrong, and violates the Egyptian constitution. There is no such thing as beating with conditions with the aim of discipline, and there is no such thing as beating with a Miswak," he continued.
Editor-in-chief of "Sawt Al-Azhar" newspaper, Ahmed al-Sawy, responded to the statements of the President of the National Council for Women, Maya Morsy, where she attacked Tayeb.
Sawy wrote that Al-Azhar has not received any bills related to domestic violence to express its opinion on, and added that Al-Azhar was not a legislative body, and was not responsible for issuing laws in any way.
Morsy said in televised statements that "human rights covenants criminalize domestic violence… We at the National Council support a bill to increase the penalty for wife-beating, and we are committed to the law."
Member of the Egyptian House of Representatives, Amal Salama, announced, on Monday, that she was preparing for new amendments to the Penal Code, which toughens the penalty for a husband's assaulting their wives with imprisonment for a period up to five years.
The privately owned el-Watan newspaper reported Salama as saying that she will seek a quorum for the bill in the coming days, in preparation for submitting it to the Speaker of Parliament, especially since a large number of MPs expressed great enthusiasm to back the amendments to the law.
In the explanatory note to the draft law, Salama emphasized that there is an obligation from the government to protect women from all forms of violence, especially that the beating of wives has become a threat to the Egyptian family values and threatens social peace.
She added that she depended on the amendments of Penal Code to Article 11 of the Constitution, which stipulates achieving equality between women and men in all civil, political, economic, social and cultural rights, and that the country is committed in protecting women against all forms of violence, and enabling women to reconcile family duties and work requirements.
She said that recent studies from statistics from the National Council for Women indicate that about eight million Egyptian women are subjected to violence  and a further 86 percent of wives are subjected to beatings.