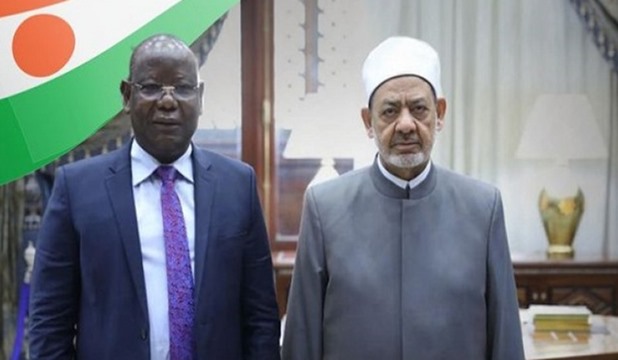 Al-Azhar Grand Imam Ahmed al-Tayyeb said on Monday that Al-Azhar pays great attention to peoples of the African continent.
During his meeting with Niger's Minister of Interior Hamadou Adamou Souley and his accompanying delegation, Tayyeb praised the historical relations with Niger, which were boosted after establishing two Azhar institutes there and sending Azhar scholars to teach Arabic language and Islamic sciences.
Tayyeb reviewed Al-Azhar's strategy to allow Africans to study medicine, pharmacy, engineering, and applied sciences at Al Azhar University as well as launching training programs to combat extremism through the Al-Azhar International Academy for Training Imams and Preachers (AIATIP).
Meanwhile, Souley expressed his pride that most of Niger's scholars belonged to Al-Azhar, saying that Al-Azhar curriculum helped his country to face extremism and domestic challenges.
He also pointed to Niger's need to increase the number of Al-Azhar missions and send more medical and aid convoys to the country.