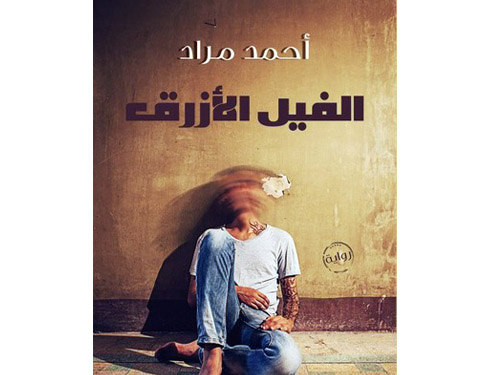 Less than three months after its release, a reprint of "Al-Feel al-Azraq" (The Blue Elephant) came out in December to meet the demand of excited readers.
Author Ahmed Mourad worked as Egypt's official presidential photographer for ten years. Hoping to reveal rotten political dealings under the Mubarak regime, he published his first novel "Vertigo" that became a runaway bestseller in 2007 and was turned into a television drama last year. His second novel "Diamond's Dust" (2010) exposed how corrupt businessmen and police officers got rich by exploiting the poor. "Diamond's Dust" was translated into several languages, making Mourad one of the leading few thriller writers in the Arab world.
But "Al-Feel al-Azraq" is very different, blending thriller, crime, and fiction with pyschiatry, and providing a profound experience that touches readers.
After his wife and daughter die in a car accident, the protagonist Yehia, a psychiatrist working at the Abbasseya Psychiatric Hospital in Cairo, decides to withdraw from the world and stay in his house for five years. To overcome his depression and loneliness, he resorts to drinking, taking drugs and gambling. But then he receives a dismissal warning from work and goes back to his job at the Forensic Psychiatry Unit, known as 8 Gharb.
Here, surprises await Yehia turning his life upside down. An old friend accused of murder, Sherif, is among the patients he needs to diagnose at 8 Gharb. Sherif has a strange tattoo on his left arm, and spends long hours absent-minded looking at the wall; he also talks to Yehia with two different personalities.
Hoping to find out the truth behind Sherif's case, Yehia starts a journey of tracking clues, visiting the crime scene and gathering information from Sherif's sister Lobna. She is married and has a daughter; yet their frequent meetings rekindle their old love that goes back more than a decade.
Throughout "Al-Feel al-Azraq," Mourad provides insights into human psychology and mental diseases through the patients at Abbasseya, but also by focusing on the different psychological sides of Yehia; his ups and downs and his fondness of revealing people's secrets through reading their body language to win poker games.
We read him saying: "I'm the one who breathes, eats and sleeps with momentum … I'm a watch without hands … I'm Younis in the belly of an infidel whale that won't throw me on an island." "I am the food without salt … I am the one who is waiting for the moment of the final blackouts in a boring play composed of ninety chapters… The moment when the red curtain closes without applause," says Yehia, describing his miserable life after his wife and daughter's death.
In the novel, Mourad keeps readers excited by introducing gripping surprises every now and then; we cannot help but turn to the next page.
Like in his previous writings, the author depends much on providing detailed descriptions of places, characters and relationships that help us imagine the full picture. Sometimes, however, Mourad goes overboard like when he focuses on the details of every cigarette, every drug and every alcoholic drink that enters Yehia's body, and the overly detailed depictions of Yehia's journeys to the other world after taking the blue pills.
The mystery in the novel begins to be resolved when Yehia tries the blue elephant pills, a psychedelic drug known medically as DMT. It is based on a natural substance secreted by the brain right before death to help it adapt. When taken as drugs, it causes near death experiences and intense hallucinations. For Yehia, the blue elephant was a gateway that enabled him to move to the other world and uncover the demonic sources behind Sherif's crime.
This transition in the course of the events, however, can come in frustrating to the reader, converting "Al-Feel al-Azraq" suddenly from a realistic story delving in medicine and psychiatry to a fictional one tackling witchcraft and sorcery.
Still, the novel is a pleasant and exciting read, perfectly playing off between the mysterious character of Yehia, and the mix of Standard Arabic and Egyptian slang used in the narration and dialogues, respectively.