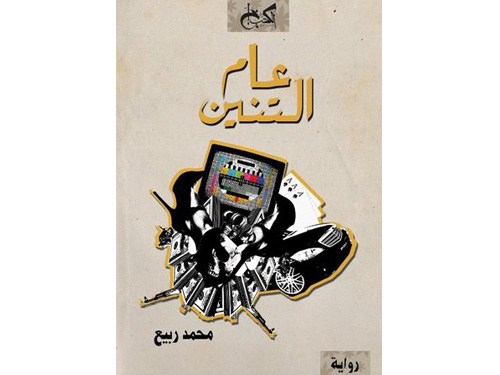 The judges on the panel of the International Prize for Arabic Fiction have come out with their list of the year's best Arabic novels. But Egypt Independent wanted to know what prominent regional writers really enjoyed reading in 2012. What books grabbed their attention and refused to be put down?
Yasser Abdellatif, Egyptian novelist
It's clear that literary production in post-revolutionary Egypt has slowed, which is normal. This is particularly the case with the novel, where the world around is still transforming. It's also natural that some are trying to ride the wave of rapidly produced writing about revolution, and these books are for the most part wretched and cheap. Among the works that drew my eye this year was Mohamed Rabie's second novel "Year of the Dragon." It's a promising novel, at the turning point of what was written before the "spring" and what has been written after.
From the older generation, I liked the novel "House of Fire" by Mahmoud al-Wardani, and I consider it the high point of his literary career.
Ibrahim Farghali, Egyptian novelist
Regarding the books I read this year, I can mention a very good novel by young Kuwaiti writer Souod al-Sanousi, "Bamboo Stalk." It is a well written novel about a young half-Kuwaiti, half-Filipino guy who spent his early years in the Philippines then went back to his father's country, Kuwait, to face his destiny in a very racially conscious society. The novel draws a very good and detailed picture of both cultures and of the contradictions in both of them. I liked it a lot.
Noura Noman, Emirati novelist
Saudi writer Ashraf Fagih's "The Impaler" is the first adult horror book I read in Arabic. It's also a mix of horror, fantasy and history, which is another first. I was catapulted into a different, ancient world from the first page. Gone were modern amenities and civilization as a whole. This is gritty stuff and it doesn't apologize for it. I loved the unlikely hero Orhan and the conflicting sides of him. He's supposed to be educated and as close to a scientist as one would find in that day and age, yet he also harbored superstitions and misgivings about new ideas. I was also quite grateful to Fagih for trying to get the reader to see things from different perspectives; too long have we allowed our young generation to think there is only one faith and one way of living. Yes, the book contains a lot of violence, but then that's why it's called horror.
Mohamed Rabie, Egyptian novelist
"Crocodiles" is Egyptian writer and critic Youssef Rakha's second novel. Here Rakha tells of the 1990's generation poets, and the American beat generation. He also translates a poem by Allen Ginsberg several times throughout the course of the novel. Rakha returns here to his favorite themes, which are repeated from his first novel, "The Sultan's Seal." "Crocodiles" is simply the best work of fiction I read this year.
Nihad Sirees, Syrian novelist
I've loved reading Mohamed Mansi Qandil since his previous novel, "A Rainy Day on the West Side." And since I settled in Cairo, I read Egyptian novelists heavily. So it was good luck when the new novel "I Fell in Love" was released this year from Dar al-Shorouk. It has an intuitive honesty, and draws the reader in from the first pages with a love story about a young girl — the intensity of her passion hardens in a train station, and she loses consciousness, causing a crisis when people see a girl standing as a statue on the station platform. The hero, Ali, in the final year of his medical studies, decides to save the girl and goes out to search for her beloved. Through his trip, Egypt unfolds with all her colors and depths.
Kamel Riahi, Tunisian novelist
The novel "Ebola 76" by Sudanese author Amir Tag al-Sir has been occupying my mind. This short novel takes disease as its hero. It is one of the most important recent works released by Dar al-Saqi, and while it explores the atmosphere of Sudan, and is a purely African work, it can be read by readers anywhere in the world to the same effect.
Ali Badr, Iraqi novelist
I have recently finished reading three ambitious Iraqi novels. They all examine the relationship between power and culture and represent an allegory for the role of the novel in Iraqi cultural life.
"The President's Gardens" by Muhsin al-Ramli is a novel about three friends living in a northern Iraqi village. It has strong political themes drawn from Iraqi social history and critically examines power during the Saddam Hussein regime and the era of American occupation, as reflected in civil strife, unlawful killing, torture and ill treatment, kidnapping and hostages. It reflects, albeit in fictional guise, on the nature of authority, while also analyzing the economics and politics of Iraq as a history book might.
Alternatively, Murtadha Gzar in "Mr. Azger Akbar" creates a fictional story about three granddaughters of a genealogist who have been living near the shrine of Imam Ali in Najaf city since the end of 19th century. By means of lyrical prose and surrealist events, Gzar reviews the different historical stages of this Iraqi city up until the time of the American occupation. The novel achieves the same narrative end as that of Ramli, portraying power as a composite genre assembled from political and theocratic factors.
"The Diary of an Iraqi Dog," by Abdul Hadi Sadoun, offers the reader a more intimate view of Iraqi life. The dog becomes the protagonist, and the world is often seen from his point of view. The work reminds us of Kafka' short story "Investigations of a Dog," with a focus on Iraqi political and social life. As with many Iraqi novels, this novel is centered on the rule of dictatorship in Iraq.
Mansoura Ezz Eldin, Egyptian novelist
"The Qasr al-Nil Cinema" by Mohamed Farouk is a collection of short stories that mark the emergence of a new writer with an amazing imagination and a playful mood. Farouk has a tendency to humanize inanimate objects, blending realism and fantasy, comedy and tragedy. He provides the reader with stories that experiment while still putting things simply and without claim to profound questions.
"The Phoenix" by Louis Awad is a novel written in the 1940s, but reprinted this year for the Family Library project. The reprint has made this novel, important in the history of Egyptian literature, available to a broad cross-section of readers who hadn't known it. It's a novel about which Tawfiq al-Hakim said when he read it in 1965: "If this novel had been published when I wrote, it would have changed the course of the Arabic novel!" Blending realism and fantasy, Awad constructs the atmosphere in Cairo after the Second World War, focusing on the problem of violence in human society.
Ahmad Yamani, Egyptian poet
Youssef Rakha's "Crocodiles" comes after his marvelous "Sultan's Seal." Here Rakha continues to innovate on the levels of structure, language, and fictional thinking in general. This novel narrates in its special way a side of literary life in the 1990s. I liked it very much.
With the novel "Fingers of Dates," Muhsin al-Ramli achieved a big success and reached the longlist of the International Prize for Arabic Fiction two years ago. He now returns with "The President's Gardens" on war and dictatorship in Iraq. In spite of the brutality in certain scenes and the naked language, this novel presents Iraq's pain in beautiful art.
And "Diaries of an Iraqi Dog," by poet and novelist Abdul Hadi Sadoun is an adventure. This excellent story is narrated by an Iraqi dog whose owner has been killed right before his eyes by Iraqi tyrants. Hence the dog begins his journey in life alone after witnessing this destruction. Through mostly light incidents, we watch the layers of Iraqi pain during the dictator's ruling days and afterward.