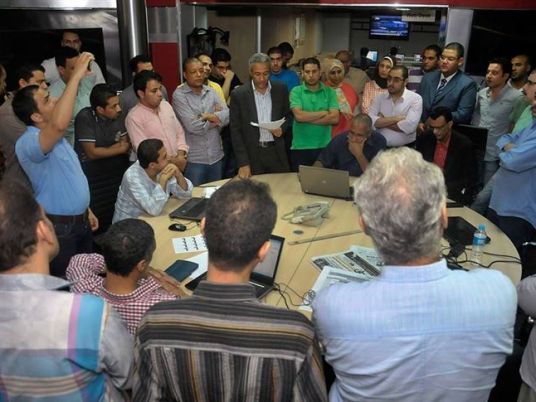 Journalists at the 11-year-old, privately-owned daily newspaper Al-Masry Al-Youm staged a protest inside their newsroom on Sunday, condemning plans by the board to lay off 60 percent of the workforce.
The newspaper's board had announced a restructuring plan which would involve the dismissal of 60 percent of the journalists, citing financial hardships, particularly since the workforce has been expanding despite poor advertisement revenue streams.
The protesting workers warned the administration that its plans were "illegal" and "unconstitutional", rejecting what they described as "recurrent threats to sell or close the newspaper".
In a statement read out by Abul-Saud Mohamed, a Journalists' Syndicate board member, the journalists stressed their right to annual bonuses and shares in revenues which, they said, have been "squandered over the past period".
They also urged the administration alleviate all hurdles which have kept Al-Masry Al-Youm's journalists from joining the syndicate over the past few years.
In their statement, the journalists gave the administration 24 hours to clearly pronounce its response before they refer "to concerned state bodies and take legal action".
The board had recently asked employees to sign a disclaimer confirming they were not working for other media outlets on a part-time basis, likely a part of the restructuring plan.
Edited translation from Al-Masry Al-Youm