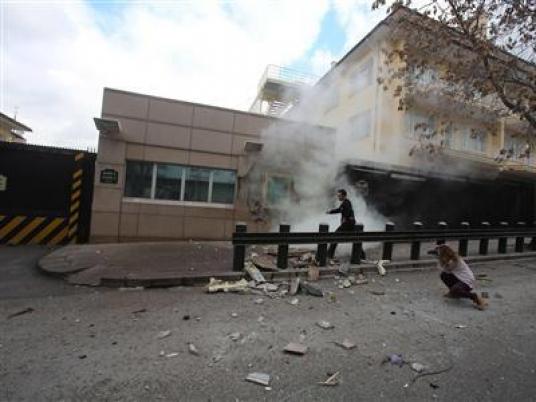 Al-Qaeda in Yemen has denied U.S. allegations it is plotting massive attacks that prompted the closure of Western missions in the country this month, in a statement posted online.
The extremist network also denied reports confirmed by Yemen's President Abdrabuh Mansour Hadi that U.S. intelligence services had intercepted a conversation between Al-Qaeda chief Ayman al-Zawahiri and Nasser al-Wuhayshi, head of the Yemen-based Al-Qaeda in the Arabian Peninsula.
"Hadi repeated the nonsense and propaganda published by U.S. intelligence on telephone calls between jihadist leaders to justify the U.S. plot to kill Muslims in Yemen through continued raids," AQAP said in the statement posted on jihadist Internet forums.
Hadi had "claimed the jihadists were plotting to target oil terminals in the country using bomb-laden trucks," said AQAP.
"We deny what he said and regard it as an attempt to justify US criminal practises."
"We also affirm our concern… in preserving the blood of Muslims," the statement added.
A source close to Hadi quoted the Yemeni leader as saying Friday that in the alleged conversation between the Al-Qaeda leaders Wuhayshi told Zawahiri he would be hearing of something "that will change the course of history."
Hadi and U.S. President Barack Obama had discussed the matter at the White House on 1 August, according to the same source.
On 4 August, the United States shut 19 of its consulates and embassies in the Arab and Muslim countries amid what American officials said was a threat of an imminent Al-Qaeda attack.
The missions were later reopened.
In the remarks delivered Friday to police officers, Hadi said a bid to attack an oil terminal in Yemen had been foiled after the phone conversation between Wuhayshi and Zawahiri was intercepted.
On 7 August, Yemen said it had foiled an Al-Qaeda plot to storm the Canadian-run Mina al-Dhaba oil terminal and seize the eastern Hadramawt provincial capital Al-Mukalla.
Hadi said authorities were still searching for the second explosives-packed truck but had arrested members of a cell who had helped "facilitate the operation."
The president said a wave of drone attacks during the past two weeks on suspected Al-Qaeda targets in Yemen killed 40 militants, including some ringleaders in the Sanaa region.