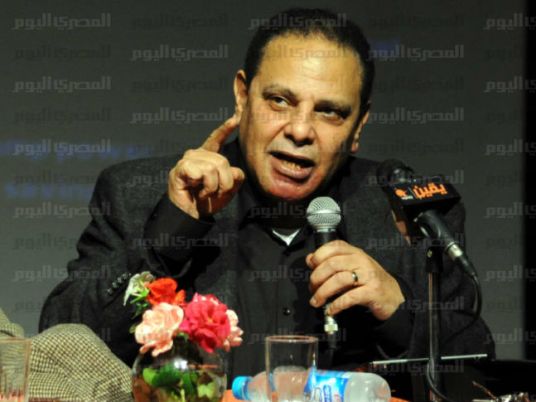 Writer and novelist Alaa al-Aswany commented on Tuesday on the acquittal of Mubarak-era Prime Minister Ahmed Nazif and former Interior MInister Habib al-Adly in the case known as the "Number Plates" case.
"Nazif, Adly, Sameh Fahmy, Mubarak and his men are acquitted, while Alaa Abdel Fattah, [Ahmed] Douma, and the revolutionary youth are jailed," said Aswany. "Are there still people who don't understand the connection between the current authority and the revolution?"
"Abdel Fattah, Douma, and their companions are paying the price for the freedom of an entire people. Remnants [from the Mubarak regime], Brothers, and the [politically] ignorant are gloating, but the revolution will continue and triumph.This is what history teaches us," Aswany wrote on his Twitter account.
The Cairo Criminal Court acquitted Nazif and Adly on Tuesday over charges of squandering public money through the importing of license plates under Mubarak.
Another Egyptian court originally indicted all suspects on charges of squandering LE92 million in state funds when a German company was granted contracts to provide license plates by direct order, supplying plates at prices higher than market price and generating excessive revenues in violation of the law.
The criminal court had previously given Nazif a suspended sentence of one year in prison, while Adly received five years in prison.
The legal representative of German license plate manufacturer, UTSCH, also received a suspended 18-month sentence.
Nazif served as prime minister under former President Hosni Mubarak from 2004 to 2011, before resigning during the 25 January uprising against the regime.
The court also ordered Nazif's release pending investigations into other corruption charges.
Meanwhile, the Cairo Criminal Court headed by Judge Farid Hassan sentenced Abdel Fattah on Monday to five years of hard labor as well as a fine of LE100,000 over a protest staged outside the Shura Council in November 2013 which demanded the cancellation of military tribunals for civilians.
The court also sentenced 18 defendants in the same case to three years in prison and a LE100,000 fine, plus a three-year 'police surveillance' probationary period upon their release. Four other people were sentenced to 15 years in prison.
Edited translation from Al-Masry Al-Youm