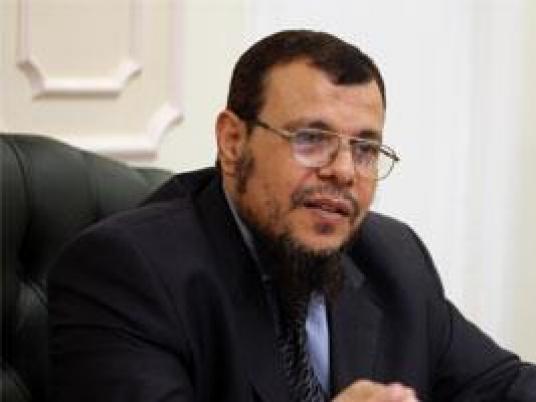 Khaled Alam Eddin, who was recently dismissed from the presidential office, said Thursday he would sue President Mohamed Morsy to reveal the truth behind why he was sacked.
Alam Eddin, the president's former environmental advisor, said he would not tolerate what he called "defamation against himself" and described his dismissal as a "treachery and betrayal."
According to a statement from the president's office, Nour Party member Alam Eddin was dismissed because he was using his position for personal gain, which the advisor denies.
"After my dismissal, I convened with a group of jurists and human rights activists who showed solidarity with me and we arranged for a public opinion campaign to clarify my position and how I was exposed to injustice. I also started taking judicial measures against Morsy personally, in order to clarify the cause of my dismissal and [why] he is slandering me in this way and to find out what kind of information the administration has got to condemn me or the assistants who worked with me."
Alam Eddin told London-based newspaper Asharq Al-Awsat Thursday that the real cause behind his dismissal was his continued criticism of the administration and the Cabinet's performance. The Nour Party's recent censure of the Cabinet and administration as well as its joint initiative with the National Salvation Front only added fuel to the fire and confused the president, he added.
Alam Eddin said he believed that there was a "clear imbalance in the decision-making mechanism within the state."
He also accused Morsy and the Freedom and Justice Party of upholding narrow partisan interests regardless of more important national interests.
"The president listens only to special advisers who belong to his group," Alam Eddin said.
Alam Eddin warned Morsy and the Muslim Brotherhood to change their ways or face further public outcry.
"The statement issued by the administration underestimates the minds of Egyptian people and the [reputation] of people. I consider it a continuation for a system of confusion and lack of clearness in the administration," he said.
"[The statement] attempts to suggest to people who rejected the decision that [Morsy] has information and evidence against me, while he does not have anything, not even mere suspicions," Alam Eddin added.
"It is enough for me that citizens showed great solidarity with me and the president should know that the consequences of injustice are grave, and the oppressed must be triumphed by God," he concluded.
Edited translation from Al-Masry Al-Youm