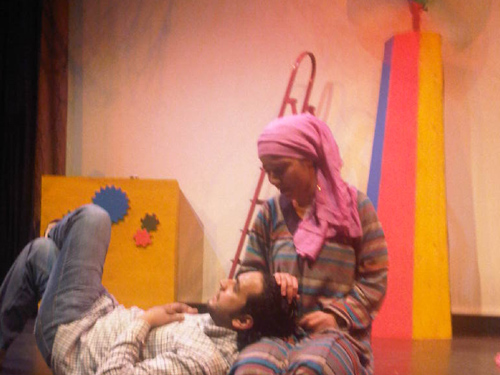 Last year, Egyptian singer Mohamed Mohsen got into a heated debate with leading musician Hany Shenouda about the future of the Egyptian independent music scene. Mohsen argued that enforcing intellectual property rights to combat online sharing is useless.
At the time, Mohsen was recording his oriental tunes and sharing them online for free in order to expand his fan base without conceding to the tastes of mainstream producers. Shenouda described Mohsen's approach as "utopian," and advised the young singer to find a producer. Otherwise, he would end up broke with a single self-financed album.
Mohsen was not convinced. He believed that a new underground music scene is emerging, comprising junior musicians, lyricists, producers and, most importantly, audiences eager for new talents.
So, he worked diligently and released his first mini-album "Al-Laf Fi Shawareik" ("Roaming Your Streets") in early March, when many major producers and singers were still busy fighting against music piracy. Similar to the ongoing street movement, to which he dedicates the album, Mohsen seems to have created a place for himself while official players remain entangled in worn out politics governing both the political and cultural scenes.
All of the six songs on his new album, dedicated to the revolution's martyrs, can be downloaded online for free.
In "Roaming Your Streets," Mohsen continues to pay tribute to some of the best-known Egyptian singers of the mid-20th century. But, he is also innovative (in terms of lyrics), trying to challenge years of stagnation in Arabic music.
He refrained from overly-used sentimental lyrics like "My love," "lovely" and "beloved," common in Arab songs since the seventies. Like his idols, Mohamed Abdel Wahab, Om Kalthoum and Abdel Halim Hafez, whose songs he has been singing at the Cairo Heritage Ensemble since he was a teenager, he sought poetry.
Poetry added a magical flow to his songs. He cooperated with two young poets, Michael Adel and Mostafa Ibrahim, for the album. As for the music, he composed all of the songs, except for "Aghany Temla al-Hay" ("Songs That Fill a Neighborhood") and "Beladak Baeeda" ("Your Country Is Far"), which were composed by Ramy Yassob.
Coupled with Mohsen's beautiful voice, Ibrahim's lyrics worked perfectly in the acapella hit song "Al-Laf Fi Shawareik" ("Roaming Your Streets"). In this song, Mohsen sang in two different scales creating a melodic dialogue between him and Egypt:
"The sneakers that wore off roaming your streets / Can only kiss your land / The textile heart ironed with your acts / Remains soaked with your sweet fragrance / The boy who lived his whole life loving you / And hopes his name would come through your letters / Sent, assuring him that you sleep and wake-up with him in your heart."
Mohsen remained faithful throughout the album to Egyptian classics. In his song "Beladak Baeeda" ("Your Country is Far"), he used the sad mawwal style with all its familiar sounds: the flute, lute and tambourine mixing it with the keyboard. But unlike the traditional mawwal, he dispensed with the chorus for the echo of his own voice; a decision that was probably due to the limited production budget that still worked beautifully.
One song in the album is an adaptation of Sheikh Imam's famous "Al-Bahr Byedhak Leih" ("Why is the Sea Laughing") which he sang very well, although his adaptation did not give the song a new melody or distribution. Although Mohsen used to play covers for Sayyed Darwish, Abdel Wahab and Sheikh Imam in his concerts, he only included this song in the album, probably to highlight his vocal skills.
Singing poetry gave Mohsen the space to vary his topics, but this album's main theme remains patriotic, which is an extension to the line he started with "Karamet al-Masry" ("The Egyptian Dignity") track, made in collaboration with rapper and filmmaker Ahmed Mekky.