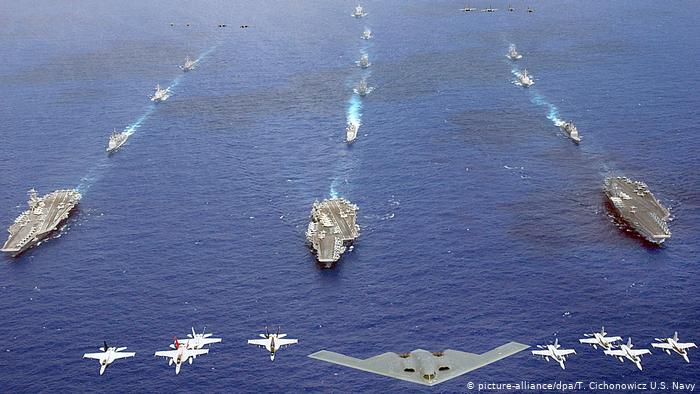 US President Donald Trump's administration has ratcheted up its "maximum pressure" campaign against Iran in recent months, raising concerns that the United States and Iran are on a path to war.
According to a Reuters/Ipsos poll published Tuesday, 64 percent percent of Americans — including a large majority of Republicans — support the 2015 deal designed to prevent Iran from acquiring nuclear weapons in exchange for sanctions relief.
Amid the brewing tensions, 51 percent of respondents indicated that the United States and Iran would go to war within the next few years, up 8 percentage points from a poll last June.
Nearly half — 49 percent — of all Americans disapprove of how Trump is handling relations with Iran, the poll found, with 31 percent saying they strongly disapprove. Overall, 39 percent approve of Trump's policy.
At the same time, 54 percent of Americans view Iran as a "serious" or "imminent" threat.
US building up its military presence
In April, hardliners in the Trump administration pushed to label Iran's Islamic Revolutionary Guard Corps a terrorist organization, despite warnings that the move could endanger US personnel in the Middle East. A month later the US restored all sanctions on Iranian oil exports.
Trump's national security adviser John Bolton in May made a show of an already scheduled US aircraft carrier group's deployment to the Persian Gulf and announced a B-52 bomber force would be sent to the region. Days later, the Pentagon added a Patriot missile defense battery and an amphibious assault ship to the deployment.
Iran has allegedly sabotaged oil tankers off the coast of the United Arab Emirates and Yemen's Iranian-aligned Houthi rebels have carried out drone attacks on Saudi oil pumping stations amid US intelligence warnings that Iran or Iran-backed groups could threaten US interests.
Weighing up war options
Analysts say that provocative US moves could be perceived by Iran as a potential imminent military threat at a time when the US has already engaged in economic warfare.
Concern is growing that an incident — whether intentional, accidental or staged — could trigger an uncontrollable escalation into a devastating regional war.
If Iran attacked US military forces first, 79 percent of poll respondents said that the US military should retaliate: 40 percent preferred airstrikes on Iranian military targets, while 39 percent favored a full invasion.
The Reuters/Ipsos poll was conducted May 17-20 on a sample of roughly 1,007 adults in the United States. The sample includes 350 Democratic registered voters, 289 Republican registered voters, and 181 independent registered voters.