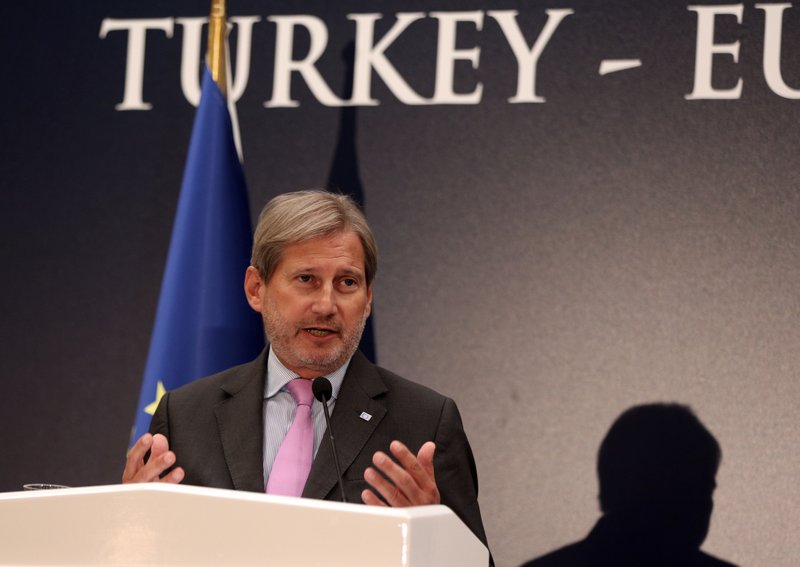 When Americans started falling ill last year in Havana, the victims of eerie, invisible attacks, investigators seized on a key question: Who had the motive to drive the United States and Cuba apart?
Nearly a year later, the US hasn't unraveled the riddle. But whoever is to blame, the plot appears to be working.
Less than three years have passed since the longtime enemies began an ambitious diplomatic experiment, restoring formal ties despite lingering resentments and potent political opposition on both sides of the Florida Straits. Despite all that, a delicate detente took hold in 2015 and has slowly but steadily progressed.
Now the experiment has been abruptly upended.
Each country will soon have but a fraction of the diplomatic presence in the other's capitals that they've had in recent years. The United States, fearful about diplomats' safety, will leave behind a skeleton staff for emergencies. Cuba, ordered to withdraw 15 diplomats, will maintain roughly a dozen in Washington — far fewer, even, than worked in its "interests section" that took the place of an embassy for decades when the countries didn't officially speak.
For some 2 million Cuban-Americans and their relatives still in the homeland, the distance suddenly seems much wider than the mere 90 miles of water separating the nations. Visa processing will grind to a halt for the 20,000 Cubans who seek permission each year to emigrate to the US and thousands more applying to visit family.
"The only thing I can do is wait," said Carlos Sierra, a 31-year-old restaurant worker in Havana. His hopes for a family re-unification visa to join his parents in the US have been dashed.
But what other choice did Washington have?
Secretary of State Rex Tillerson and other US policymakers struggled deeply with how to respond to the attacks, Trump administration officials said. They weren't authorized to discuss internal deliberations and requested anonymity.
There was reluctance to punish Cuba when the US still hasn't blamed anyone. There were also concerns that if some entity — perhaps Russia, or a faction of Cuba's government — is trying to drive a wedge between Washington and Havana, cutting back diplomatic ties would play directly into their hands.
Yet Americans in Cuba these days may not be safe — at least as far as US security officials can tell. Twenty-two Americans are confirmed to have suffered medical ailments from the attacks, and the figure keeps growing.
Loath to succumb to the still-nameless aggressor, most US diplomats in Havana argued against pulling out, as did their union in Washington and much of the State Department ranks, officials said. But leaving Americans in harm's way presented a moral dilemma that, ultimately, the administration decided it could not stomach.
"It's a wrenching decision," said Mark Feierstein, the former White House official who shepherded the detente with Cuba in the final years of the Obama administration. "There's clearly some entity out there that wants to damage relations between the two countries, and unfortunately, they've been successful."
For Americans, the issue carries emotional baggage and fraught politics stemming from the saga over Benghazi, Libya, where four Americans were killed in 2012. In the years after, former Secretary of State Hillary Clinton and her aides were pilloried over accusations they knew Americans were unsafe in Benghazi and failed to act in time.
For President Raul Castro's government, the crisis has posed an entirely different challenge: If the attacks are still a mystery, how can Cuba exonerate itself?
Havana felt it had shown good faith by letting the FBI fly down and operate on its soil for what Cuba said was the first time in more than 50 years. The United States has praised its willingness to cooperate, but also has avoided sharing sensitive details about the investigation.
At first, Cuba's communist government was judicious in its public comments about the matter, letting Washington do the talking. But then the US started suggesting Havana bore some responsibility — if not culpability — because Americans had been harmed on Cuban soil.
The United States has never explained what, if any, steps Castro's government could but won't take to stop the attacks, considering no culprit and no device have been identified. Rather, the US has merely said it's Cuba's responsibility to keep diplomats safe, and left it at that.
So on Tuesday, hours after the US expelled its diplomats, Cuba finally went on offense.
In a lengthy statement read to reporters in Havana, Foreign Minister Bruno Rodriguez detailed everything his country has requested to help Cuban authorities investigate: immediate notification of attacks, access to injured Americans and their doctors, and technical data about what potential weapon might be at play, to name a few.
His argument: If Cuba is kept in the dark, how can it be expected to solve the crime?
Supporters of warmer US-Cuba ties argue the Trump administration ultimately bowed to political pressure from opponents of rapprochement, such as Florida Sen. Marco Rubio. Many of the same US lawmakers had tried unsuccessfully earlier this year to persuade Trump to revert back to the chillier state of affairs before 2015.
"If we never solve this mystery, then what?" said James Williams, president of the advocacy group Engage Cuba. "It's not serious about solving the issue, it's leveraging an opportunity to advance a political goal they couldn't achieve on their own. That's not what this should be about."