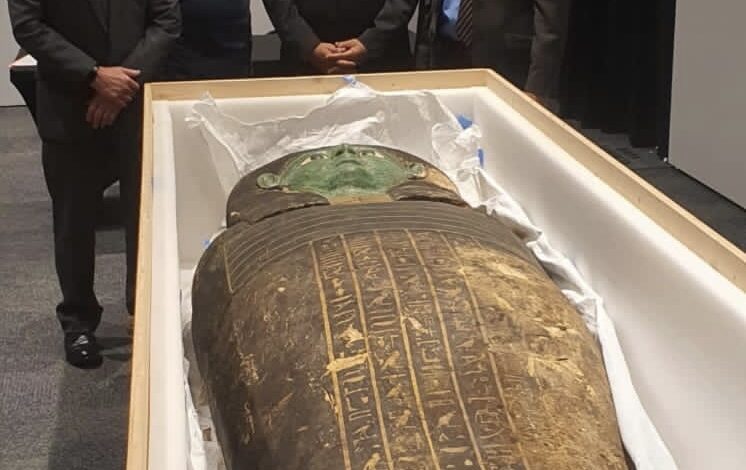 Within the framework of tireless efforts to restore Egyptian antiquities smuggled abroad, Egypt's Consul General in Houston, Hossam al-Qawish, received an ancient Egyptian wooden coffin cover that was illegally smuggled from Egypt, a statement by the Ministry of Tourism and Antiquities said on Thursday.
In 2019, Egypt, in cooperation with the US Attorney's Office in Manhattan, New York, succeeded in retrieving the gilded sarcophagus of Nedjemankh that was in the possession of the Metropolitan Museum after investigations that lasted more than two years, Secretary General of the Supreme Council of Antiquities, Mostafa Waziry, said.
The coffin was received and deposited in the National Museum of Egyptian Civilization in Fustat.
According to investigations with the American side, an international network for smuggling Egyptian antiquities was discovered, which resulted in the recovery of six other pieces that were in the possession of the Metropolitan Museum in early September, as well as the lid of the coffin of the priest of the city of Herakleoupolis called "Ankh-en-Maat", which was in the possession of the Houston Museum in the US, and was handed over, on Wednesday, to the Consulate General in Houston, Shaaban Abdel Gawad, General Supervisor of the Administration of Recovered Antiquities with the Supreme Council of Antiquities, said.
Abdel Gawad explained that the cover of the coffin is large in size and made of wood covered with hieroglyphic inscriptions and a face painted in green. It has as well gold decorations.
He pointed out that this coffin is distinguished by its exceptional size, as it is more than three meters long.