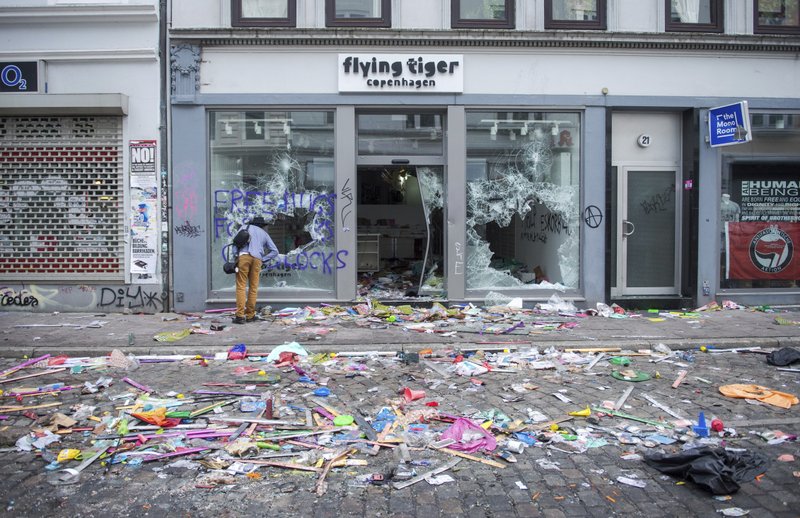 Anti-globalization activists rioted violently for a second night as Hamburg hosted Group of 20 leaders, setting up street barricades, looting supermarkets and attacking police with slingshots and firebombs on Saturday.
Police said riots were extremely aggressive in the early hours of Saturday in the city's Schanzenviertel neighborhood, which is only a few hundred meters (yards) away from the summit grounds. Hundreds of officers went into buildings to arrest rioters wearing black masks from rooftops while being attacked with iron rods and Molotov cocktails. Thirteen activists were arrested when special units stormed one building.
About 500 people looted a supermarket in the neighborhood as well as smaller stores. Cars were torched and street fires lit as activists built barricades with garbage cans and bikes.
Laura Zeriadtke watched the full-scale clashes unfold from her street-level apartment window and witnessed about 30 black-clad anarchists tearing down a construction fence across from her home and using it as a shield to push back riot police.
"It was a civil war," Zeriadtke said, adding that there were many teenagers among the rioters.
The city's mayor, Olaf Scholz, called on the rioters to halt the violence.
"I'm appealing to the violent protesters to stop what they're doing and to withdraw and to no longer commit any violent crimes," Scholz said. "I'm very concerned about the destruction … and the brutality against our police officers."
Hamburg, Germany's second-largest city, has a strong radical left scene. Many critics had warned well before the summit that its dense streets would be almost impossible to control and clashes would be likely.
But, German Interior Minister Thomas de Maiziere said, "any criticism of the location of the meeting misjudges cause and effect."
"These were unbounded violent excesses out of a desire for destruction and brutality," de Maiziere said. He added that police and judicial authorities must take a tough stance against such crimes and that the arrests were appropriate.
World leaders have come together in the northern German port city for two days to tackle contentious issues including terrorism, climate change and trade.
Most protesters expressed their views peacefully, asking for quick action on climate change and solutions to the migration crisis. But a few thousand rioters, some of them from elsewhere in Europe, created havoc in the city. They've battled riot police for two consecutive days, expressing rage against capitalism and globalization and called for open borders to let all refugees enter Europe.
Their anger was not so much focused against President Donald Trump or other leaders, but directed against police as symbols of authority.
"This was organized and long-prepared criminal violence as we have never witnessed it before," city official Andy Grote told reporters.
Police arrested 143 people, and 122 activists were temporarily detained. More than 200 officers have been injured since the start of the protests Thursday night. Police and firefighters said they did not have information about how many protesters and other civilians were hurt.
A 27-year-old German man was arrested early Saturday on suspicion of attempted murder for allegedly using a laser pointer to temporarily blind pilots of a police helicopter patrolling from above the city.
Later, special units raided a culture center that's known to be a meeting point for violent protesters. Officers confiscated illegal firecrackers, but didn't make any arrests.
Even one of the organizers of the more radical leftist protests distanced himself from the overnight riots in Schanzenviertel.
"We have the impression that … some kind of militancy was taken to the streets, that people get a high on it," Andreas Blechschmidt, of the alternative culture center Rote Flora at Schanzenviertel, told public broadcaster NDR. "We think that's politically and substantially wrong."
Police called on witnesses of the riots to upload photos and video footage on their server to help with the investigation and prosecution of violent activists.
The epicenter of the overnight mayhem was near the Bok Asian restaurant. Cook Hongching Laapha looked out of a shattered window into the street where garbage had burned so hot it left the asphalt melted and pitted.
"There was nothing until 9 p.m. when we closed, then it got so bad. There was a huge fire," he said. "We really don't know what to do."
Ludwig Geiss, a 65-year-old long-time resident of the area, said that he'd gotten used to the many protests in the alternative neighborhood, but had never experienced anything like the G-20 chaos.
"I know the scene, but what happened yesterday … puts it all in the shadows," Geiss said as he was evaluating the damage outside his apartment. "I'm not staying here another night."
But on Saturday morning, the scene was calm and quiet. City cleaners quickly took to the streets sweeping up rubble and using heavy construction equipment to haul away the leftovers of barricades and fires.
Elsewhere in Hamburg, peaceful protesters started new marches holding up red balloons and dancing through the streets to live music.
Activists from the environmental Greenpeace group scaled a bridge and unfurled a banner saying, "G-20: End Coal."
Fighting global warming is one of the major issues on the G-20 agenda, but negotiations are proving to be difficult since the US left the international Paris climate agreement a few weeks ago.
Later on Saturday, around 20,000 protesters marched through the city again under the slogan "borderless solidarity," but they remained peaceful.