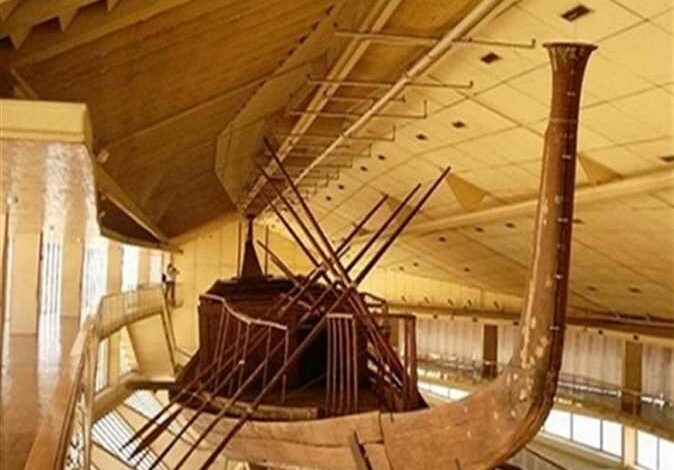 On Monday, Minister of Tourism and Antiquities Khaled al-Anany held a meeting to discuss the latest developments at the Grand Egyptian Museum (GEM), as well as the upcoming transfer of the Khufu Ship.
The meeting was attended by the Secretary-General of the Supreme Council of Antiquities, Mostafa Waziri, the General Supervisor of GEM and the surrounding area, Major General Atef Moftah, and the Director General of Restoration and Transfer of Antiquities at GEM, Issa Zeidan.
During the meeting, the group discussed plans to prepare and transport first Khufu boat to GEM. They also touched on the new King Khufu Ship Museum, which will also be located at GEM.
In regards to transporting the ship, the meeting reviewed the transport vehicle's stability and performance, as well as the chosen route's incline, to ensure the ship's safe arrival.
Furthermore, the latest developments in archaeological and engineering work at GEM's exhibition halls were discussed.
Khufu Ship
In 1954, parts of a cedar-wood barge were found in five pits near the Great Pyramid of Khufu.
The boat was restored and assembled out of 1200 pieces of wood and has been displayed since then at the Solar Boat Museum near the Great Pyramid.
The boat's transfer has required extensive planning and a practical rehearsal.
Journalists from Egypt and around the world will be invited to a press conference where details of the transportation process will presented, including the screening of a film dedicated to the transport work and a viewing of the transportation rehearsal.
The GEM was set to open in 2020, however, the opening was postponed due to the coronavirus pandemic. It is now scheduled to open in 2021, although a specific date has yet to be announced.
The museum will be one of the largest museums worldwide dedicated to a single civilization. It will also display, for the first time, King Tutankhamun's entire collection, including 2,000 artifacts that have not been seen by the public.
Edited translation from Al-Masry Al-Youm