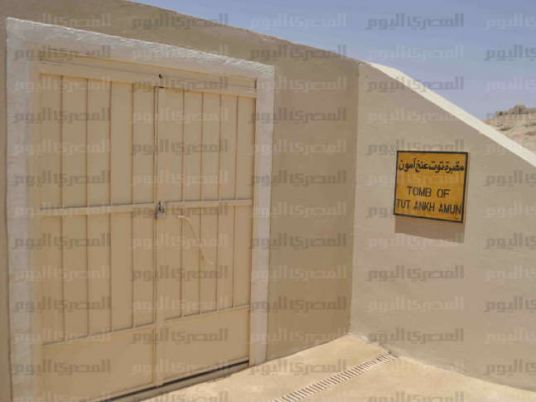 Antiquities Minister Khaled al-Anany and Luxor governor Mohamed Badr inaugurated on Friday the first center for cloning the tombs of Pharaonic kings and queens.
The officials inaugurated as well the Stoppelaere House near the Valley of the Kings, west of Luxor.
The Ambassador of Switzerland to Egypt, Markus Leitner, attended the inauguration.
An archaeological Egyptian source told DPA agency that the project was held in collaboration with the Spanish and Swiss governments and aims to train Egyptians on the uses of the three-dimentional survey and compound photography which are used in cloning pharaonic tombs such as King Tutankhamun's cloned tomb, which was constructed by Spanish Factum Arte Foundation.
The Center aims to implement two projects to clone King Seti the First's tomb in the Valley of the Kings, and the tomb of Queen Nefertari in the Valley of the Queens, so that tourists can visit the two imitated tombs in case the original ones are closed.
The two original archaeological tombs are periodically closed to protect their inscriptions.
Stoppelaere House belongs to deceased Italian restorer Alexandre Stoppelaere who was head of the Restoration Department of the Egyptian Antiquities Authority in the mid-20th century. It was designed and built by Egyptian architect Hassan Fathy in 1950.
The house will serve as headquarters for training Egyptian archaeologists and restorers as part of the cloning project.
Edited translation from Al-Masry Al-Youm