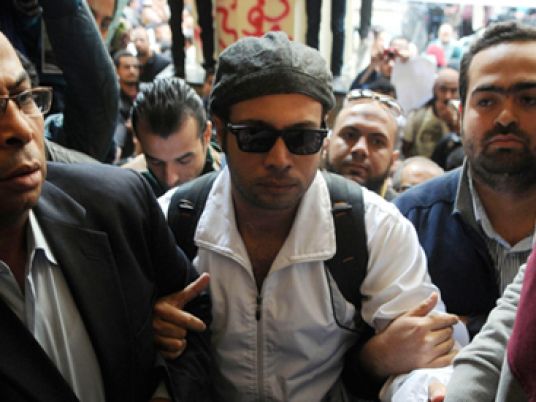 April 6 Youth Movement's Democratic Front said the conditions set by the institution of presidency and the Interior Ministry to pardon youth jailed over violating the law regulating protests on the occasion of the 25 January revolution would cause the exclusion of detained movement youth, including Ahmed Maher, founder of the April 6 Movement, and activists Ahmed Douma and Alaa Abdel Fattah.
Mohamed Fouad, a spokesman for the April 6 – Democratic Front, said that the conditions of presidential pardon included: the issuance of a final court ruling, and the detainee should not be accused of damaging public and private property.
Those conditions would exclude the majority of detained movement members, he added. Fouad accused the Interior Ministry of fabricating charges of blocking roads, destroying private and public property, beside demonstrating without a permit.
Maher will not be pardoned as a final verdict had been issued against him over assaulting policemen and destroying private property, which was a neighboring cafe to Abdeen Court. Douma is accused of destroying the Institut d'Égypte but a final ruling has not been issued in the case yet.
A final ruling has not been issued as well against Abdel Fattah who is currently on trial over demonstrations outside the Shura Council. On the other hand, George Isaac, rapporteur of the Committee of Political and Civil Rights of National Council for Human Rights, said that the terms of the presidential pardon set for jailed activists are just and apply to all prisoners who are not involved in violence incidents.
Edited translation from Al-Masry Al-Youm