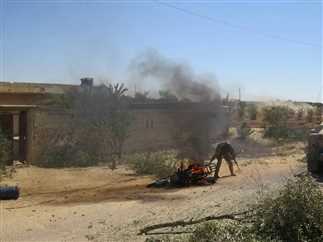 The armed forces announced in a statement on Thursday the killing of 47 terrorists and the detonation of 385 IEDs.
The Air Force targeted and destroyed 29 hideouts and 97 4WD vehicles.
Forty-seven terrorists who possessed various guns, ammunition and IEDs were killed in North and central Sinai.
Military engineers discovered and detonated 385 IEDs planted to target the security forces. They also discovered and destroyed two entries to an underground tunnel in cooperation with border guards.
Security forces destroyed 33 cars and eight plate-less motorcycles belonging to terrorists.
According to the statement, 158 criminal suspects were arrested.
Weapons, ammunition, various bullets and quantities of auto parts were discovered in terrorists hideouts in North and central Sinai.
The statement said naval forces carry out their duties in both the Mediterranean and Red seas to secure economic objectives and secure the coastal strip against maritime threats including illegal migration.
The border guards seized 585 rifles of different types, two submachine guns, 80 automatic rifle magazines, and 2,088 different bullets as well as 646 kg of cannabis, 7,707 kg of marijuana, 10 kg of opium, and 633,000 opiod tablets.
The border guards seized 172 vehicles used for smuggling and 48 devices used for mining.
The forces thwarted illegal migration attempts by 1,048 people of numerous nationalities. They seized 258,117 cigarettes, which were found to contain carcinogens, as well seized 12 satellite telephones and 15 GPS devices.
Two military officers and three soldiers were killed in confrontations with terrorists, and four soldiers were wounded, the statement mentioned.
Edited translation from Al-Masry Al-Youm