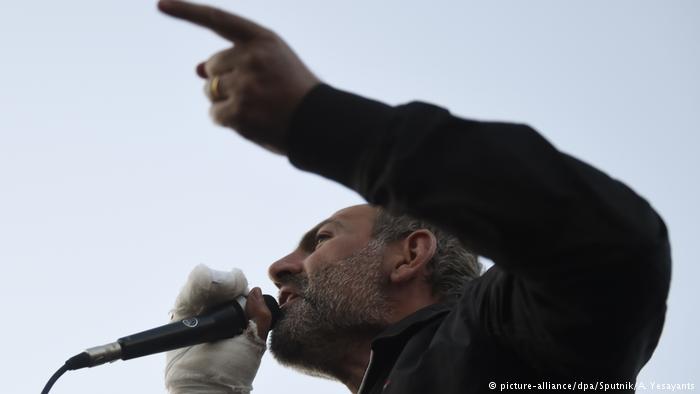 Armenian opposition lawmaker and protest leader Nikol Pashinian said he would meet on Sunday with Serzh Sargsyan, the president-turned-prime minister who has been the focus of mass protests in the former Soviet country.
"I will meet Serzh Sargsyan to discuss the conditions of his resignation and of a peaceful transfer of power," said Pashinian in a video published to his Facebook page. The meeting is expected to take place at the Marriott hotel in the Armenian capital, Yerevan.
Armenia has been rocked by nine days of mass protests against Sargsyan, a two-time president, because of what protesters are calling a "power grab" following a 2015 referendum that transferred power from the presidency to the premier.
Parliament on Tuesday swore in Sargsyan as prime minister under a new parliamentary system, effectively making him Armenia's most powerful official. But the move triggered social unrest, prompting tens of thousands of Armenians to take to the streets and call for his ouster.
'My nation is asking you to consider'
Police have arrested hundreds of protesters since Tuesday, including two people they accused of making explosive materials to use in public places. On Saturday alone, authorities detained 84 people allegedly attempting to block streets in the capital.
But as the protests escalate, police appear to be using tougher measures to quash the anti-government demonstrations.
Earlier this week, Armenian-Canadian actress Arsinee Khanjian, who joined a protest in front of the Armenian Embassy in Berlin on Saturday, wrote an open letter to Sargsyan, urging him to show restraint.
"Mr. Serzh Sargsyan, modesty, even in politics, is not a weakness," said Khanjian. "It is a human force and quality that opens the way for choice and that's what your country, my nation is asking you to consider."
Defending continued rule
In an open letter, Sargsyan defended an extension of his rule, saying only he can navigate the country's most pressing issues, including the Nagorno-Karabakh conflict.
"In this region with a complex geopolitics and at a time of new challenges, we must ensure the stable development of the country and continue efforts aimed at a suitable settlement of the Karabakh problem," Sargsyan said in the letter published by the government's press office. "I believe these problems can be resolved. After that, other figures can take the helm."
But Pashinian rejected the prime minister's remarks, saying Sargsyan "doesn't understand the new situation that has emerged in the recent days."
"The Armenia and Yerevan he knows does not exist anymore," Pashinian added.