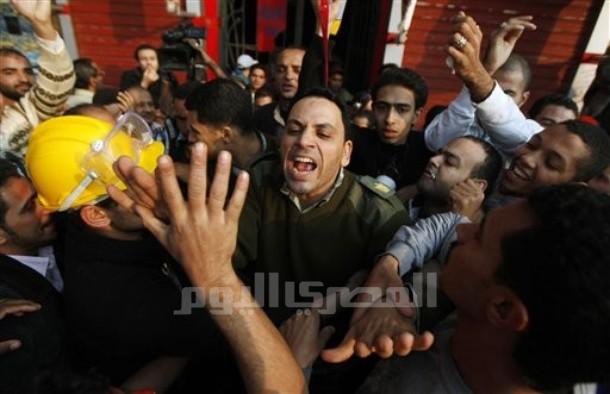 A military tribunal on Wednesday sentenced an army officer to five years in prison for joining protesters who were calling for a swift handover of power to civilians in Cairo last November.
On its website, state-run newspaper Al-Ahram said Captain Amr Ahmed Metwally took part in protests at at the cabinet while wearing his military uniform.
The court charged the officer with abandoning military orders and refusing to be summoned to his unit. He was also charged with discussing politics and appearing on satellite channels without obtaining permission.
He was further charged with wearing the camouflage military uniform outside his military unit, being absent from his unit from 28 November until 8 December, and joining protesters.
The paper said the officer's behavior was described as harmful and potentially demoralizing to the armed forces.
News reports said Metwally issued a statement on 24 November on behalf of the officers in Tahrir, in which he called for the dismissal of the Supreme Council of the Armed Forces and for their trial "for humiliating the military institution and killing protesters." He also called for handing over power to a civilian presidential council.
On Tuesday, a military court sentenced an officer, Ahmed Shoman, who joined demonstrations against Egypt's military rulers to six years in prison with hard labor, Al-Ahram reported.
The court convicted Shoman of engaging in conduct unbecoming of an officer, shooting and disseminating footage on the media and the internet, and absenteeism from his post to join protesters in Tahrir Square.
Shoman was also charged with abandoning military orders, conveying political views through satellite channels in violation of a law that bans military personnel from conveying political views, and for wearing a camouflage uniform banned outside military units.