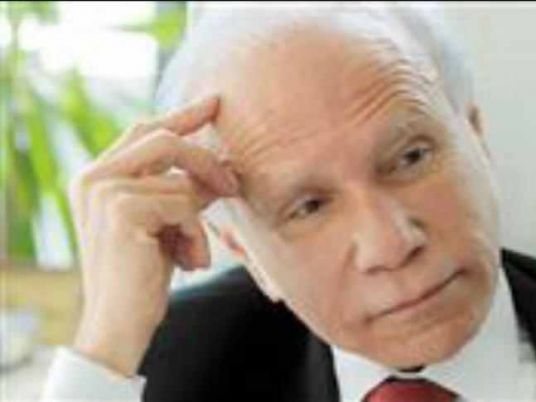 Businessmen, as well as the media, have largely condemned the arrest of businessman Salah Diab, the founder of the Al-Masry Al-Youm daily newspaper early Sunday, purportedly over charges of unlicensed arms possession and financial corruption.
Diab was arrested along with his son, Tawfik, the CEO of PICO International Petroleum, from their home in Giza. Media circulated photos of the pair handcuffed and escorted by police.
Diab, who founded Al-Masry Al-Youm in 2004, had his assets temporarily frozen on Friday over a four-year-old case accusing him and 16 other businessmen of obtaining a plot of land at a favorable price.
Some observers believe that sharing the photos of Diab's arrest, as well as the timing of the arrest, are precursors to a state crackdown on media. The arrest came days after President Abdel Fattah al-Sisi criticized his allied media outlets for attacking his performance in addressing the rainstorm crisis in several provinces. Many media entities responded with discontent at the president's remarks.
Diab's lawyer, Mohamed Hamouda, said the arrest unveiled "a vengeful desire to tarnish their reputation". He attributed the arrest to Al-Masry Al-Youm's critical reports that eventually target the "public's best".
"The arrest of Salah Diab confirms that Egypt has not changed from the dawn of the January 25, 2011," media host and journalist Ibrahim Eissa said during his show on the satellite TV channel AlKahera wal Nas Sunday, referring to the uprising against former president Hosni Mubarak.
"That was a suspicious incident..it is a heinous message," said Eissa. "The state is trying to tell you if you think yourself a media figure, a businessman, a politician, an MP or even a worthy human being, I can squash and humiliate you."
The business community also voiced concern over the incident.
Ahmed al-Wakil, chairman of the Federation of the Egypt Chambers of Commerce, described Diab's arrest as "serious" and "of grave impact to the Egyptian economy".
Edited translation from Al-Masry Al-Youm