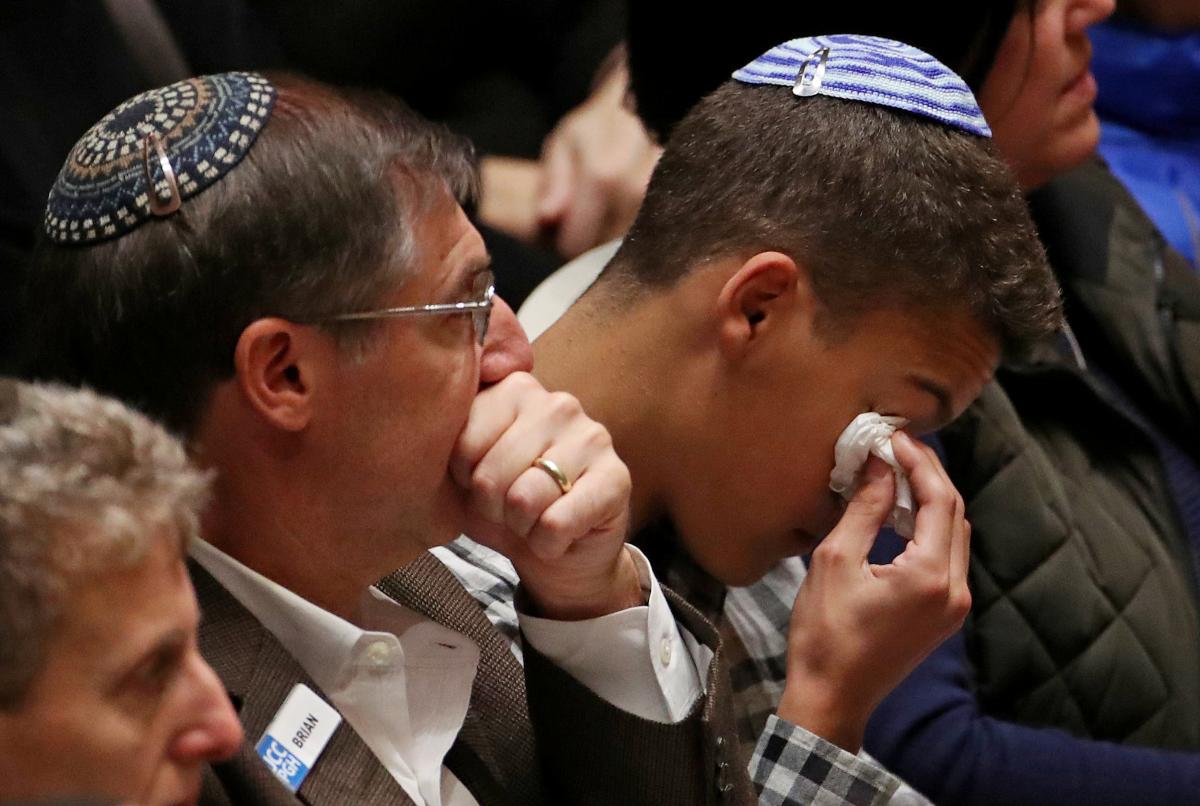 A man charged with shooting 11 worshipers to death at a Pittsburgh synagogue was due to make his first court appearance on Monday as more details of the attack emerged and the congregation struggled to come to terms with the deadliest ever attack on America's Jewish community.
"I think people are in various stages of trauma, mourning, disbelief, shock all rolled into one," Rabbi Jeffrey Myers of the Tree of Life Synagogue told ABC's "Good Morning America" on Monday.
Robert Bowers, 46, who has a history of posting anti-Semitic material online, has been charged with 29 criminal counts, including the violation of US civil rights laws in what federal prosecutors say was a hate crime.
Several of the charges can be punishable by the death penalty.
Bowers is accused of storming into the Tree of Life temple in Squirrel Hill, the heart of Pittsburgh's close-knit Jewish community, yelling "All Jews must die" as he opened fire on members of three congregations holding Sabbath prayer services there on Saturday morning.
According to a document filed at the US District Court for the Western District of Pennsylvania by the Federal Bureau of Investigation, three handguns and an AR-15 rifle were recovered at the scene.
The complaint quoted Bowers saying to one law enforcement officer, in substance, "they're committing genocide to my people."
"I just want to kill Jews."
Bowers is due to make his appearance in court on Monday afternoon.
A police report on the shooting rampage described an exchange of fire outside the synagogue between police officers and Bowers, who retreated inside. Police entered the building and during a gun battle, Bowers was shot multiple times and critically wounded, and a police officer was also shot a number of times.
Jeffrey Cohen, president of the Tree of Life Synagogue, told ABC on Monday he went to the hospital because he wanted to see the man accused of the shootings.
"He's taken into my hospital and he's shouting, 'I want to kill all the Jews,' and the first three people who are taking care of him were Jewish," Cohen said.
In addition to the 11 mostly elderly worshipers who were killed, six people, including four police officers who confronted the gunman, were wounded before the suspect surrendered. Two of the surviving victims remained hospitalized in critical condition.
About 2,500 people attended an interfaith memorial service for the victims late on Sunday on the University of Pittsburgh campus.
The dead included two brothers in their 50s, David and Cecil Rosenthal, a married couple in their 80s, Sylvan and Bernice Simon, and 97-year-old Rose Mallinger, the oldest of the victims.
Another was Dr. Jerry Rabinowitz, 66, a family physician who initially escaped the attack only to be killed when he returned to render aid to the wounded, according to a Wall Street Journal op-ed column by Pittsburgh carpet salesman Lou Weiss, who knew five of the victims personally.
The killings rocked the Squirrel Hill community, an enclave that encompasses several synagogues and Jewish religious schools, and sparked security alerts at places of worship across the country.
Gab.com, the website where the suspected gunman posted anti-Semitic views, said on Sunday it was offline for a period of time after being asked by its domain provider to move to another registrar.
The move comes after GoDaddy Inc asked Gab to change the domain, while PayPal Holdings Inc, Stripe Inc and Joynet Inc blocked the website.
The massacre also took on political overtones as some complained that the confrontational, nationalistic rhetoric of US President Donald Trump has encouraged right-wing extremists and fed a surge in activity by hate groups.
The United States is just over a week away from midterm elections that will decide the balance of power in Congress.
Trump, who branded Saturday's shooting an act of pure evil and called on Americans to rise above hatred, was already facing similar criticism after pipe bombs were mailed last week to some of his most prominent political adversaries. The targets, mostly Democrats, included former US President Barack Obama.
Cesar Sayoc, 56, a strip club DJ and part-time pizza delivery man whose van was pasted with pro-Trump images and slogans disparaging the political left, was arrested in the pipe bomb case on Friday and faced his first court appearance on Monday in Florida.