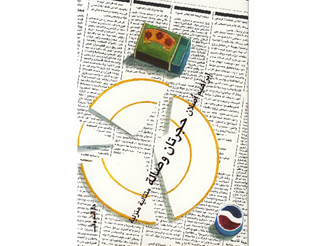 A two-bedroom apartment might seem like a tiny space to write about, but iconic writer Ibrahim Aslan, who died last week, manages to turn it into a vast world, rich with details and reflections on life as people come of age.
Aslan's 2009 novel in stories, "Two-Bedroom Apartment," is a diary of a septuagenarian couple living in a tiny old flat. As the author introduces the characters and lets his audience get to know them, we explore how humans' relationships with their surroundings change as people get older.
The protagonist realizes new aspects of his relationship with his wife after their children get married and move out, discovering for the first time that some of his habits bother her.
In the story "He Thought," the wife asks if he'd like her to make dinner or wait until she finishes the laundry. He responds: "Well, I'm not really that hungry, but I think …" Before he finishes his words, his wife bursts into anger: "Are you still going to think? … Don't you ever get bored of this word?"
The protagonist is at first surprised with her unfriendly response, and thinks there must be something else behind it, like one of her usual mood swings.
"I was only talking to the TV," he responds. But then, he begins to doubt if indeed those little things he does so spontaneously might be too much for others to handle.
"Still, shouldn't she have drawn his attention more gently?" Aslan wonders.
As the couple reflects on their long relationship through several similar incidents, they realize their importance in each other's lives. Shortly after, the wife passes away.
The storyline of "Two-Bedroom Apartment" is romantic and somewhat sad. But Aslan, with his usual sense of humor and short, gentle phrases, turns it into a simple, yet deep reflection on human life and relations. One of the most intriguing scenes is his description of the wife's death in "White and Black": "She was lying on the bed in the dark, with her worn-out body and white hair tied. The telephone ring blared from the film shown on TV in the hall. She hears the ring and says: 'Somebody answer the phone, kids,' and then she turned on her side and never rose again."
However, the life-shattering event of losing a loved one is not the main focus of Aslan's novel. Instead, it's the small changes that pile up, turning into central events in his protagonist's life. In "Dentures," Aslan writes, "When all his teeth fell, he laughed with a closed mouth and used his eyes and the rest of his features to express moments of happiness."
Aslan's work often focuses on seemingly small everyday events and stays away from major life-changing ones. He never directly writes about political or social issues, preferring to deal with humanitarian and existential questions, starting from his early short stories like "Evening Lake" and "Nile Sparrows" to his masterpiece, "The Heron" and diary, "Poor Man's Hermitage."
When you read "Two-Bedroom Apartment," you get the sense that Aslan is drawing his final portrait.