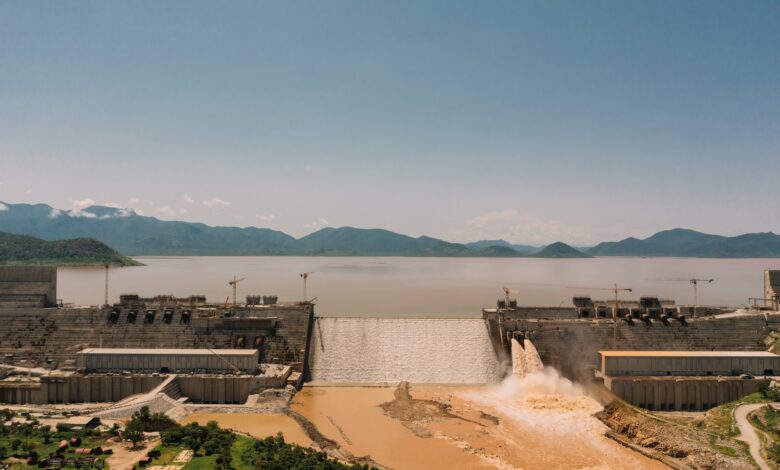 Sudanese Prime Minister Abdalla Hamdok anticipates that a solution to the Grand Ethiopian Renaissance Dam (GERD) will soon be reached "within the framework of international law", and praised an initiative presented by Algeria to solve the crisis.
Algeria had called for a direct meeting between Egypt, Sudan and Ethiopia to reach a solution to their differences over the issue.
Algerian President Abdelmadjid Tebboune expressed his optimism about the success of the Algerian initiative regarding the GERD, calling on the countries concerned to "respond" and "show wisdom and logic in order to find a peaceful solution to the crisis."
During a television interview with the Saudi al-Sharq channel on Sunday, Hamdok said that his country "appreciates the efforts of the Algerian leaders" in the initiative they presented to solve GERD crisis.
"Sudan is at the greatest risk if anything happens to the GERD," he said.
Hamdok slammed any suggestion of a military solution to the contentious issues with Ethiopia over the border and the dam, stressing that "negotiation and dialogue remain the basic solution to differences with Ethiopia."
"We are neighbors to Ethiopia, linked by land, geography, history and common relations, and I assure these issues can be resolved through dialogue."
The Algerian Minister of Foreign Affairs, Ramtane Lamamra, made an African tour at the end of July which included Ethiopia, Sudan and Egypt to get acquainted with the positions of all parties regarding the issue, and was briefed on developments in the region.
During a press conference held late August in Algeria, Lamamra said that "Algeria is ready to help Egypt, Sudan and Ethiopia to return to a normal situation in the negotiations over the Renaissance Dam on the Nile River."
A large number of mediation underway, he said, but noted that the added value of Algeria, as well as its experience lies in the confidence of all three parties in it as they consider that it has no additional agenda and that it cannot abandon the countries closest to it in light of the deteriorating situation between them.