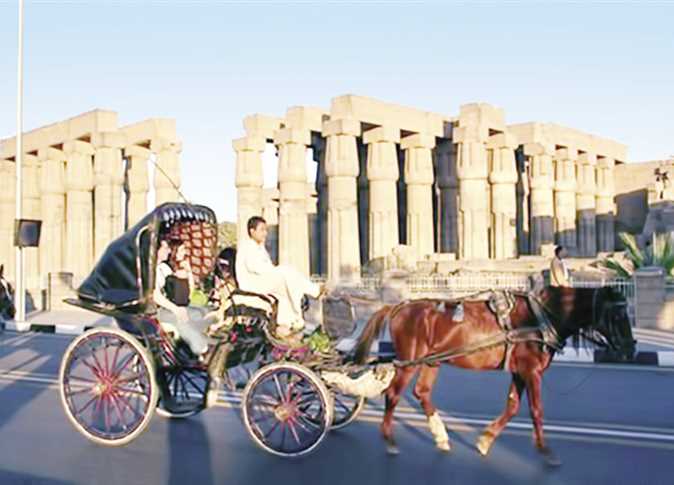 The head of the Local Unit of Edfu city in Aswan, Abdel Rahman Amer on Sunday rescinded 27 "hantoor" (horse carriage) handler licenses from working for 10 days, in addition to imposing fines of LE100 and confiscating 50 whips.
This decision came as a response by the Aswan governorate to dozens of tourist complaints outraged over witnessing many horses get harshly thrashed by hantoor drivers in Edfu.
Hantoor is a traditional transportation means still widely used across Upper Egypt and in touristic spots such as Luxor, Aswan and the Great Pyramids of Giza.
The governorate assigned a committee to investigate the issue in order to take precautionary measures alongside imposing the appropriate punishment criminalizing any abusive behavior.
In 2019 Amer revoked 120 hantoor licenses amid an incident that took place in Aswan when a poorly-maintained horse carriage flipped over while carrying a group of tourists.
Amer said in an official statement on December 2019 that he discovered the incident during his own inspection tour in Aswan. He immediately ordered the concerned officials to provide the tourists that were involved in the incident with another hantoor to continue.
Animal rights defenders in Egypt constantly voice their complaints regarding the lack of animal welfare laws ensuring the safety of any animal in Egypt, even strays, in the Egyptian penal code.
Also in December 2019, Egyptian parliament member Caroline Maher proposed a draft amendment to the penal code #58 of 1973, calling to harshen the penalty against any crime violating an animal's rights.
"All religions have recognized the inevitability of protecting the lives of all creatures, and forced moral codes barring all forms of animal abuse," Maher said in a statement condemning animal abuse, claiming that it is being widely practiced by citizens without any "legal deterrence".
Describing the absence of animal welfare laws as legitimate gaps, Maher stressed that articles in the Egyptian constitution that criminalize animal abuse does not do enough to enforce strict punishments.
The Egyptian penal code says that one shall be punished in case they "deliberately and unjustifiably kill a beast of riding, drawing or carrying, any kind of cattle, or cause enormous harm to it."
Additionally they may be penalized in case they "poison any of the animals mentioned in the previous clause, or fish that exists in a river, canal, puddle, swamp or basin."
Punishment in case of the previously mentioned crimes would be a two-year sentence at maximum, according to the Egyptian penal code's text.