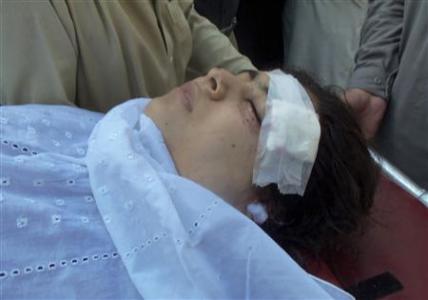 The alleged organizer of the Taliban shooting of a Pakistani schoolgirl was captured during a 2009 military offensive against the hardline Islamist group but released after three months, two senior officials told Reuters.
They identified the man who planned the attack on 14-year-old Malala Yousufzai only as Attaullah, and said he was one of the two gunmen who shot her on a school bus this month in the Swat Valley, northwest of Islamabad.
Believed to be in his 30s, Attaullah is on the run and may have fled to neighboring Afghanistan, they said. He organized the attack on the orders of one of the Taliban's most feared commanders, Maulana Fazlullah, officials said.
Critics say Pakistan's low conviction rate of militants, even high-profile ones who carried out major attacks, is one reason why extremism has spread in the South Asian nation.
The attack on Yousufzai, an advocate of education for girls, has drawn widespread condemnation and raised fresh questions about US ally Pakistan's commitment to fighting militancy in the nuclear-armed country.
Doctors treating her in Britain have said Yousufzai, a symbol of resistance to Taliban efforts to deprive girls of education, has every chance of making a "good recovery" after being shot in the head.
The Taliban have said they attacked her because she spoke out against the group and praised US President Barack Obama.
The two officials said Attaullah was detained by security forces after a 2009 Pakistani military campaign pushed the Taliban out of the Swat Valley.
"He spent three months in the custody of security forces but was freed after no evidence (of wrongdoing) was found," one official said.
The second source, a senior security official, said authorities had gathered enough evidence to arrest Attaullah after raiding his house in the Swat Valley, a former tourist attraction.
If Attaullah is in Afghanistan, finding him could be difficult. Some of the world's most dangerous militants have operated in the unruly, ethnic Pashtun border area for years, a forbidding area hard for security forces to reach.
The officials said Pakistani security forces were trying other ways to bring him to justice.
"His mother and two brothers were taken into custody to force him to surrender," said the second senior official. "Also two other close relatives of Attaullah have been taken into custody because we heard he spent the night in their house after his escape from Swat."
Melted away
The second official said Attaullah was not a hardcore militant, only a sympathizer when he was arrested in 2009.
The Taliban commander in charge in Swat was Fazlullah, who melted away during the crackdown and eventually moved to Afghanistan with some of his fighters.
From there, he has orchestrated cross-border raids against Pakistani government forces and has again emerged as a major security threat, security sources have said.
The Taliban, fighting to topple the government and impose a radical theocracy, have blown up hundreds of girls schools in recent years in Swat and other areas to further their opposition to the education of women.
Police and security officials say dozens of suspects were arrested after the Taliban gunmen shot Yousufzai, including four employees of her school. Two of them were released.
Public fury over the shooting has increased pressure on the Pakistani military to mount a major offensive against the Taliban, which is close to Al-Qaeda and a host of other militant groups.
While many Pakistanis were outraged by the attack on Yousufzai, some leaders of religious parties described the assault as an American conspiracy designed to trigger a military offensive against militant groups based in the North Waziristan tribal region, hundreds of miles to the southwest of Swat.
Washington has repeatedly urged Pakistan to mount a full-scale offensive in North Waziristan, home to the most hardcore militant opponents of the United States. The government has argued the military is too stretched fighting the Taliban elsewhere and consolidating gains from previous crackdowns.
Swat has been held up as a model of counter-insurgency efforts. But critics say the government has failed to follow up with large-scale investment needed to create jobs and industries to keep the Taliban from gaining new recruits.
The second senior official said Yousufzai's father, Ziauddin, had been told about threats to her life after two militants close to Ataullah were interrogated following their arrest in Swat two months ago.
"Ziauddin was properly informed two months ago about serious threats to Malala's life and was even offered security which he refused," said a third official, a senior police officer.
The father earlier told Reuters he refused police protection for Malala because he wanted her to live a normal life and that it was not permitted for men to spend time with a young girl in Swat's conservative society.