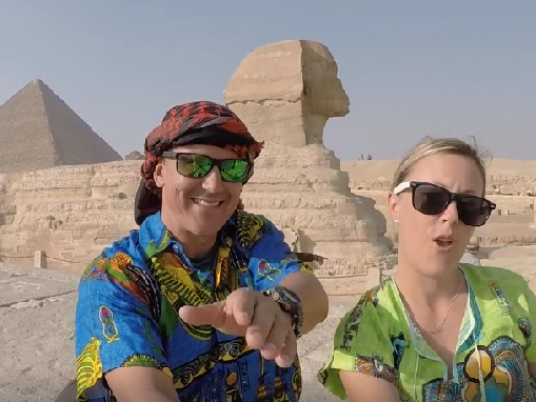 An Australian couple's holiday video "Walk Like an Egyptian" went viral on social media in the past few weeks; the couple said they are happy to have given Egypt's struggling tourism industry a boost.
Zoe Russel and Brad Moore joyfully lip synced the iconic song "Walk like an Egyptian" by The Bangles throughout their trip to the Pyramids, all the way through the ancient temples in Luxor, to snorkeling in the Red Sea and enjoying a Bedouin night — the video captures the best places to visit in Egypt in the span of a few minutes.
The couple had visited Egypt in early 2016 as part of a year-long world trip. What was intended to be a personal video for the couple's family and friends now has over 450,000 views. The video went viral after it was shared by tourism groups on social media, as well as being featured on Egyptian TV channel ON LIVE.
Russell told ABC News that she was not concerned about who might be appropriating her holiday video if it can help those who rely on tourism for their livelihoods.
"No, it's not a problem at all if it helps their country in any way, shape or form," she said. "So if this is just one way that gets one extra person to go and visit their beautiful country, then I'm happy with that."
You can watch the video below or click here to watch it on YouTube.