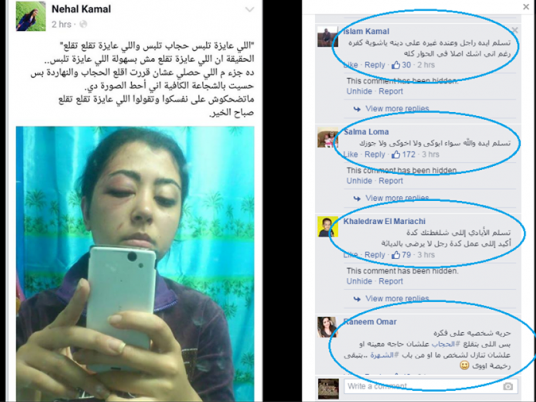 The veil has yet again been brought to the forefront of ongoing culture wars in Egypt with a campaign to encourage women to take off the hijab, accompanied by an ensuing backlash.
A photo has gone viral on Facebook of a woman who said she received a black eye because she decided to take off her hijab.
"Whoever wants to take off [the hijab], it doesn't come as easy as those who put it on," says Nehal Kamal, an interior designer and vocalist from the band
Gawy
, on Facebook. "Don't kid yourselves when you say anyone can take off the hijab if they want."
Kamal received a flood of disapproving comments on Facebook, praising the person giving her the black eye. "Well done to the guy that did this that is defending his religion," says Islam Kamal, a commenter on Facebook. "I doubt your whole story is even true."
"Good job to the guy that did this, whether it be your father, your brother or your husband," says Salma Loma, another commenter.
"Kudos to whoever slapped you," says Facebook user Khaledraw El Mariachi.
Other users responded by rushing in to show their unwavering support for Nehal Kamal. "You are strong," says Wafaa Mohamed.
"You are great in all cases," said Sami Amin.
Kamal's post comes in the wake of a public campaign launched by writer Sherif al-Shobashy, aiming to empower women to take off the head veil. "Ninety-nine percent of Egypt's prostitutes are veiled. But if you wear a hijab for fear of your father or brother, I am telling you take it off, " he argued in a program hosted by Amr Abdel Hamid on Channel 10.
Critics of Shobashy say his comments are insulting to women who choose to wear the veil and have staged a counter demonstration for May 1 in Tahrir Square.
"Insulting the majority that chooses to wear the headscarf and the minority that chooses not to is tantamount to insulting all of Egypt," says Amr el-Shobaki, a political commentator who writes for
Al-Masry Al-Youm
.
Despite the stigma in certain social circles associated with women who choose not to wear the veil, many refuse to recognize the intense societal pressure women face when making the decision. Shobaki argues that women in Egypt are not forced to wear headscarves, but rather it is their free choice to wear it.
"The Egyptian society has always rejected the imposition of the headscarf by force, whether by thugs that control certain neighborhoods, or by religious groups seeking power," he says.
Women who choose not to wear the veil in Egyptian society, however, can expose themselves to increased bullying and social exclusion, as the move can sometimes be associated with promiscuity.
"Women are not free to wear what they want and I'm glad this topic [has been] brought to public discussion these days," said Dalia Abd El-Hameed from Egyptian Initiative for Personal Rights (EIPR) in an interview with
Ahram Online
.
While Egyptian women in the upper class could be criticized for wearing a hijab, Hameed says, women in the lower class are expected to wear it after a certain age. "If not, she could suffer dire consequences in school, at home, or in the street," she added.
"These are layers of authority imposed on women's bodies, and that makes talking about how free women are to dress how they want relatively meaningless," she continued. "In some cases, physical violence could be the price of challenging these authorities."