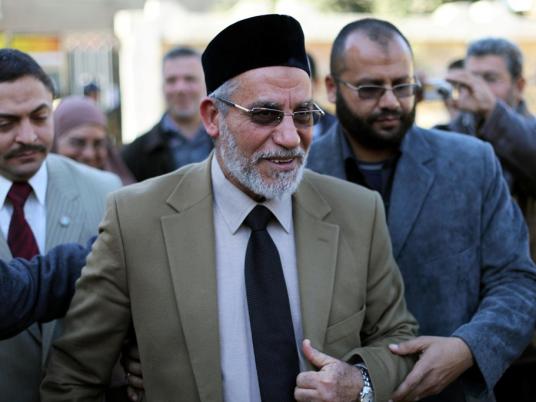 Muslim Brotherhood Supreme Guide Mohamed Badie said on Thursday in his weekly message on the Freedom and Justice Party Facebook page, "We have to know our enemies inside and outside [the country] in this critical stage and be careful of them, because they will do what they can to stop us and will utilize their money and the media to derail the Renaissance Project."
A group of young Muslim Brotherhood members sent a letter to Badie chiding him for leniency in responding to defamation against President Mohamed Morsy.
The statement, which was obtained by Al-Masry Al-Youm, demands that Badie take action to defend the group's history and prominent figures.
The youth urged the Muslim Brotherhood to go on the offensive in the media rather than defending and eventually retreating from attacks. The message reiterated the young members' respect for Badie but also warned him against their rage should the insults against Morsy and other group leaders go unanswered.
Around 50 people signed the statement. One of them, Mohamed Saleh, told Al-Masry Al-Youm that he hopes to hand the message to Badie personally. He said that the Brotherhood is reacting "bizarrely" to the ongoing media attacks and urged that they pursue legal measures to prevent attacks.
Saleh said he believed the Brotherhood leadership would have a positive reaction to the youths' letter and would respond to their demands.
Recently Dubai Police Chief Dahi Khalfan has launched an attack on the Brotherhood, accusing members of making threatening phone calls to him after he attacked Morsy on Twitter.
Edited translation from Al-Masry Al-Youm