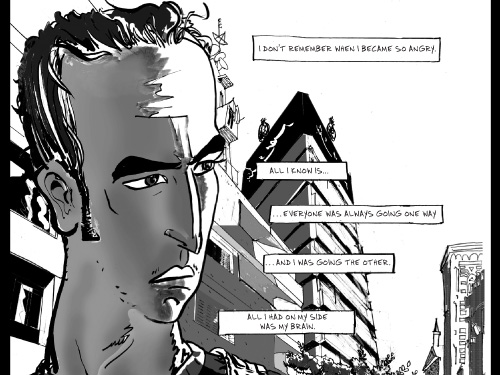 On a breezy Cairo evening in mid-July, rapper Youssef Altay and electronic music producer Ahmed El Ghazoly are holding court outside the underground club Malouk in Mohandiseen. In typical summer fashion, the electricity has blown out on the entire block while close to 30 people stand outside, awaiting the start of Altay and Ghazoly's debut performance as Abyusif and Swag Lee, respectively.
But not to worry — the musicians have a plan. A laptop is brought out and placed on the hood of a parked car. The Beatles sing through the muffled computer speakers, and Abyusif begins free-styling in Arabic.
"This is what music is about. No matter what obstacles arise, we will always figure out a way to perform, even if it's right here on the street," Swag Lee says while scanning the dark block with excited eyes.
Within moments, the electricity on the block returns. The group of 20-somethings standing outside jump in celebration, and the musicians are ushered into the club to gear up for their performance.
In the year and a half that Abyusif and Swag Lee have been making music together, they have produced more than 30 tracks, and garnered a modest cult following in the alternative music scene.
Loaded with samples, skittering beat drops, minimal synthesizers and Abyusif's cutting, triple-time raps and satirical storytelling, the duo has succeeded in crafting a distinctive and progressive sound.
The two musicians are something of an odd pairing. Abyusif is a heavy-metal man turned rapper, while Swag Lee is a longtime electronic music producer. Together they have created an immediately identifiable sound that is playfully infectious.
Abyusif, 27, is known for his satirical Arabic raps and first began his music career in high school. "I didn't have many friends in school, so I figured if I learned how to play an instrument, it could help me meet some people," he explains. "My father was a drummer, so I asked him to teach me a Beatles song on the drums — after performing it in school, bam! I had friends."
At the age of 15, Abyusif began joining various local heavy metal bands as a drummer, but even then, his passion was deeply ingrained in writing songs, both musically and lyrically.
"My first group was a heavy metal band called Ignoramus. Unfortunately, at the time, 99 percent of bands in Egypt played cover [songs], so it was difficult to find a group that wanted to collaborate on creating original music, and collaboration is so important in music," he says.
Meanwhile, at the age of 15, Swag Lee was also building his musical foundations in the Cairo neighborhood of Manial. Starting first as a DJ mixing dance music, he became immersed in the genre. "As a teenager, I was really into music. I wanted to play the bass guitar, but I couldn't afford to buy one, so a friend of mine began showing me how to DJ and mix music," he says.
In 2002, Abyusif and Swag Lee enrolled at the same university to study marketing and computer science respectively, but they would not meet until some years later. During their university years, Abyusif continued experimenting with metal bands, switching between playing guitar, drums and writing lyrics, while Swag Lee evolved from a DJ to a producer.
"I dabbled in production before but didn't take it seriously until about 2004," says Swag Lee, 28. "If you're a DJ and play dance music, you need to produce your own tracks in order to get your name out there and continue growing as an artist."
In 2005, the two musicians had their chance encounter. Abyusif had already become acquainted with Swag Lee's younger brother, Karim, who was a budding drummer at the time.
"I had heard about this young, killer drummer named Karim and asked him to join one of my metal bands at the time," says Abyusif. "I asked him to bring along his brother [Ahmed], because I heard he played bass guitar and could produce music."
The combination was not a promising one, however. Swag Lee says the musicians attempted several jam sessions, but Abyusif was simply "too metal" at the time. After a few fruitless clashes, the musicians went their separate ways but remained close acquaintances.
Swag Lee then co-founded several electronic rock-based bands, including The Authors, Foreigners and later Vent. "I had started to experiment with industrial, rock-based electronic music," says Swag Lee. "I began using distorted guitars and synthesizers, which greatly opened up my production capabilities."
Meanwhile, Abyusif began making his haphazard transformation to rap music. "At that time, I'd formed another band called Overlords of the Brewing Women, with vocalist Omar Shamy. Our sound was inspired by Rage Against the Machine and that era of rock music,'" he says. "But originally, Shamy was into rap music and he heavily inspired my interest in the genre," he adds.
Abyusif also formed a deep musical connection with Arabic singer Sadeq Adel, who taught him how to write lyrics in Arabic. They went on to create close to 50 Arabic rap-inspired tracks together in 2009.
Abyusif made one last attempt at his heavy metal career when he joined Alexandrian metal band Mascara, with which he played drums and toured Sweden and the US.
When that ended, Abyusif settled back into his work at a Cairo-based advertising agency where his responsibilities included writing Arabic jingles, copy and scripts for ad campaigns, boosting his confidence in his native language.
"While I was still a heavy-metal kid at heart, I was becoming rapidly obsessed with rap music," says Abyusif. "I was deeply inspired by rappers like Biggie Smalls and Odd Future. I learned that I could be just as aggressive writing raps as I was writing heavy metal."
Soon after, in 2011, Abyusif and Shamy teamed up again to form another band with a heavy hip-hop focus. The band was missing one key element, however — a producer. "That's when the boys approached me to make a beat for them," says Swag Lee. And so the rapper-producer duo was formed. Shortly after producing the song "Extra Cheese," Abyusif and Swag Lee began a side project working together under their new stage names.
Since that time, Abyusif has made 99 percent of his music with Swag Lee. "I like to follow the Lil Wayne and Drake business model on paper. I'm committed to Swag Lee, but we are open to collaborating with anyone," says Abyusif.
He says their musical marriage was consummated with the breakthrough song "Salby" (Passive). "It comes very naturally for us to make dark, emotional songs. But at the same time, we have the same sense of humor, which is crucial when making music based off observational satire, which is what rap is often rooted in," he says.
This piece was originally published in Egypt Independent's weekly print edition.