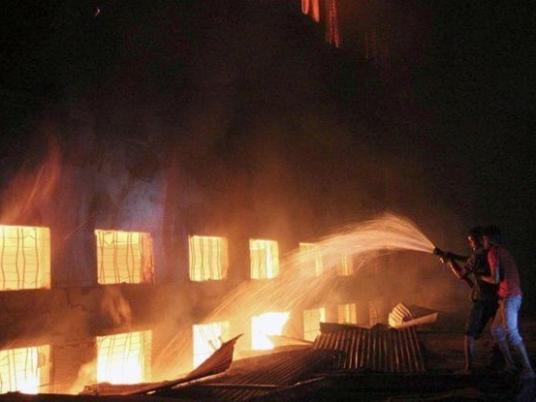 Bangladesh police Sunday laid the first charges over the nation's deadliest-ever garment factory fire 13 months ago, accusing the owners and 11 others of an offence punishable by life imprisonment.
Police charged owners Delwar Hossain and his wife, along with security guards and managers, over the blaze that killed 111 people and gutted the Tazreen factory where workers stitched clothes for Western retailers.
"Delwar and his wife Mahmuda Akter … and 11 others have been charged with death due to negligence," A.K.M. Mohsinuzzaman Khan, the police investigator in the case, told AFP.
The factory on the outskirts of Dhaka supplied clothes to a variety of international brands including US giant Walmart, Dutch retailer C&A and ENYCE, a label owned by US rapper Sean "Diddy" Combs.
The fire in November 2012 was the country's worst at a garment factory and shone an international spotlight on appalling safety conditions in an industry worth more than $20 billion.
The industry suffered a far worse tragedy just months later when the Rana Plaza garment factory complex collapsed in Dhaka's outskirts, killing 1,135 people in the world's worst industrial disaster.
Bangladesh pledged to clean up the industry after that disaster in April, and more than 100 top Western retailers have signed up to new safety agreements to allow greater scrutiny of their operations.
Victims of the factory fire, mostly women who were paid as little as $37 a month, found themselves overcome by smoke or jumped from windows on upper floors of the nine-storey factory warehouse.
Managers and security guards were charged because they forced workers to return to their duties even though smoke was billowing from the ground floor where the fire started on November 24, said Khan, the police investigator.
Khan said it was "possibly the first time" a garment plant owner has been charged over a fire at one of the nation's 4,500 factories, where deadly accidents are common.
Factory owners are rarely charged over such tragedies in the sector, which is a mainstay of the impoverished country's economy, accounting to up to 80 percent of Bangladesh's exports.
The 13 people are charged with committing culpable homicide not amounting to murder and causing death due to negligence, said police Inspector Mohammad Asaduzzaman.
A magistrate and prosecutors will scrutinise the charge sheet, filed with the senior judicial magistrate's court in Dhaka, at a hearing on December 31 to decide whether to proceed with a trial against the 13 and issue arrest warrants.
All 13 could face life in prison if convicted.
The owner, who since the tragedy has been barred from leaving the country, has been accused of breaching construction rules including building staircases that were too narrow and unsafe.
An engineer employed by the factory was also charged over faulty factory construction, Khan added.
The industry, where four million workers sew clothes for the world's top retailers for low wages, is the world's second largest after China.
The government last month raised minimum wages for workers by 76 percent and launched inspections of factories in the wake of mounting criticism that authorities were failing to improve the sector.
The new minimum wage of $68 a month still makes Bangladesh one of the lowest paid garment sectors in the world.