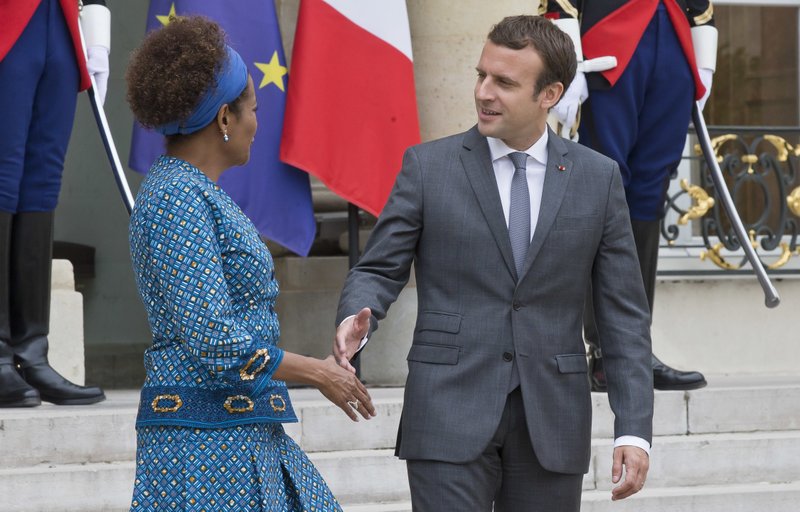 Bangladeshi authorities on Sunday took steps to restrict the movement of Muslim Rohingya refugees fleeing violence in Myanmar into crowded border camps and started immunizing tens of thousands of children against diseases.
Bangladesh has been overwhelmed with more than 400,000 Rohingya who fled their homes in the last three weeks amid a crisis the UN describes as ethnic cleansing. Prime Minister Sheikh Hasina, wo lambasted Myanmar for "atrocities" during a visit to border camps last week, left Dhaka to address the annual UN gathering in New York.
Abdus Salam, the top government administrator in the Cox's Bazar district hospital, said that some 150,000 children will be immunized over seven days for measles, rubella and polio. UN says there are some 240,000 children living in dire conditions.
"There are a lot of weak and malnourished children among the new arrivals," UNICEF representative in Bangladesh, Edouard Beigbeder, said in an email. "If proper preventive measures are not taken, highly infectious diseases, especially measles, could even cause an outbreak."
Two pre-existing Rohingya camps were already beyond capacity and the new arrivals were staying in schools or huddling in makeshift settlements with no toilets along roadsides and in open fields.
Police were checking vehicles to prevent the Rohingya from spreading to nearby towns in an attempt to control a chaotic situation.
"There is an instruction from the prime minister that we must treat Rohingya Muslims maintaining human rights," said A.K.M. Iqbal Hossain, a police superintendent. "As many private and social organizations are coming and distributing relief, sometimes chaos breaks out … You understand the scale of a humanitarian crisis here, it's very difficult to keep order, but we are doing so."
The refugees began pouring from Myanmar's Rakhine state after a Rohingya insurgent group launched attacks on security posts Aug. 25, prompting Myanmar's military to launch "clearance operations" to root out the rebels. Those fleeing have described indiscriminate attacks by security forces and Buddhist mobs.
The Myanmar government says hundreds have died, mostly "terrorists," and that 176 out of 471 Rohingya villages have been abandoned. Myanmar has insisted that Rohingya insurgents and fleeing villagers themselves are destroying own homes. It has offered no proof to back these charges.
In a state hospital, a Rohingya man who identified himself as Rahmatullah was looking over his 10-year-old son recovering from a bullet that left a deep wound as it pierced his right leg.
"Why did they shoot him? What's his crime? He is just a child," Rahmatullah said. "It was 9 in the morning and I was visiting my neighbor's home at my Baagguna village when they came and started shooting indiscriminately." He said he fled with 10 of his family members.
"I started running for the hill, where I hid myself and later collected my son and others and left," he said.
Eric P. Schwartz, head of the US-based charity Refugees International and a former assistant secretary of state for population, refugees and migration, said he couldn't recall seeing so much misery in the camps and called for international pressure on Myanmar to stop the violence.
"The stories that we are hearing. I visited a hospital yesterday, children ages 1, 5, 10 suffered burn wounds, gunshot wounds and with human beings essentially treated like animals," he said.
He said the US should re-impose sanctions on Myanmar that were in place before it made transition from military to civilian rule. But officials in Washington have been careful not to undermine the weak civilian government of Nobel Peace laureate Aung San Suu Kyi, which took office last year, ending five decades of ruinous army rule. The military remains politically powerful and oversees security operations.
On the first day of the immunization campaign on Saturday, doctors treated some 9,000 children for rubella and nearly 5,000 for polio. Salam said that basic and emergency health services were being provided through 36 medical camps with focus on children and women.
"Many of them are suffering from diarrhea, dehydration and skin diseases. They are coming to hospitals with such complications," he said.
As the weather fluctuates in Cox's Bazar between rains and sunny and humid days, many children are suffering from flu and risk pneumonia, he said.