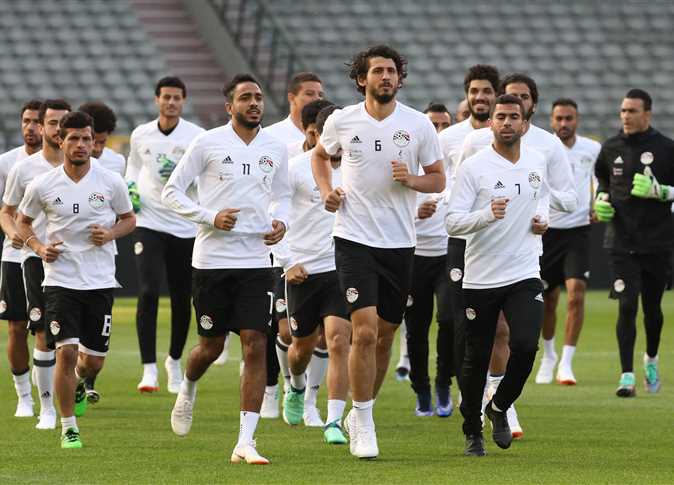 Like it or not, Egypt is having to resort to pricey beIN sports TV network subscriptions to watch the national team, The Pharaohs, play in the World Cup for the first time in 28 years.
In a country of 97 million people where the average wage does not exceed 200 euros ($235), only better-off football enthusiasts can afford private subscriptions to the sports broadcaster at home.
In Egypt, subscribers have to buy a beIN decoder for 1,630 pounds (78 euros) and pay an annual subscription of 2,280 pounds.
Coffee shop owners are hoping to recoup their investment by pulling in the crowds.
In cafes where shisha smoke will mix with the chatter and enthusiasm of fans, a large screen linked to beIN channels will prove a huge draw.
For 40-year-old Ahmed Ibrahim, the owner of a cafe in downtown Cairo, a beIN subscription is "a must".
One of his regulars, 19-year-old Magdi Arafa, has grown his hair long to look like Liverpool's Egyptian star player Mohamed Salah.
Arafa said he will just have to go to the cafe to watch the World Cup, which starts on June 14.
"What can I do? I want to watch the matches, I want to watch my country's national team," he said, seated with friends at the cafe.
Egypt plays its opening game against Uruguay on June 15, followed by matches against host country Russia on June 19 and Saudi Arabia on June 25.
– Complaints –
Apart from the decoder, the World Cup matches will only be available through a special subscription of 2,052 pounds.
While existing subscribers will get a discount, the additional cost has angered them.
"This is almost equal to the salary of so many people in Egypt," said Mahmoud Ibrahim, a 30-year-old trader.
BeIN, contacted by AFP, did not respond to questions on the subscription costs or the number of subscribers it has in Egypt.
At a beIN store in Cairo, owner Mahmud Mostafa acknowledged the complaints but said the price was little changed from that for the 2014 World Cup.
"The difference is the value of the pound versus the dollar, which has led to higher prices," he said, referring to the currency's decline.
The government, facing economic turmoil after Egypt's 2011 uprising, has adopted austerity measures in the face of both runaway inflation and security threats.
In November 2016, the IMF granted Egypt a $12-billion loan over three years.
The loan was linked to measures including the adoption of value-added tax, energy subsidy cuts and floating the pound, which saw it lose half its value.
– Special deal for youth clubs –
Egyptian authorities have tried but failed to secure broadcast rights for The Pharaohs' matches on state television.
An Egyptian court has ordered beIN to pay two fines of 18 million euros each for "violating the law" on competition.
But the youth and sports ministry said it would make screens available to broadcast the games in more than 5,000 affiliated youth centres and clubs.
Also, the ministry's Mohamed el-Kourdy told AFP it has reached an agreement with the company representing beIN in Egypt to offer them discounts.
Qatar's beIN Media Group has also been under the spotlight in other Arab countries which like Egypt broke ties with Doha last June.
The broadcaster said Tuesday it has not yet reached agreement with Saudi Arabia, likewise a qualifier for the finals in Russia, although the UAE has struck a deal to restore beIN broadcasts in the country.