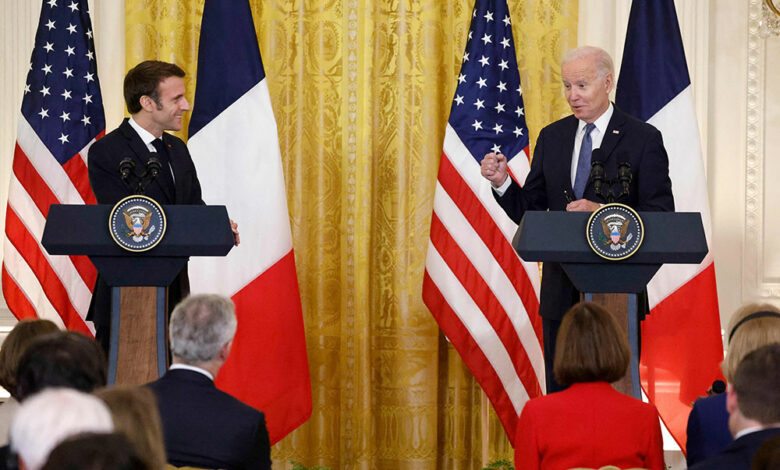 US President Joe Biden and French President Emmanuel Macron on Thursday demonstrated a united front in addressing the ongoing war in Ukraine but offered divergent answers over their willingness to speak with Russian President Vladimir Putin, relaying that they spent much of their recent meeting discussing the invasion.
Biden told reporters during a joint White House news conference with Macron that he "has no immediate plans" to contact Putin, but added that he's prepared to speak with the Russian leader if he's looking for a way to end the war in Ukraine. Biden also clarified that Putin has not done so yet.
"He's just miscalculated across the board," Biden said of Putin following his bilateral meeting in the Oval Office with the French president. "And so the question is … how does he get himself out of the circumstances in? I'm prepared, if he's willing to talk, to find out what he's willing to do, but I'll only do it in consultation with my NATO allies. I'm not going to do it on my own."
Macron said that once Ukraine sets conditions for a peace agreement, he's willing to speak with Putin. The French leader told ABC's "Good Morning America" earlier Thursday that he intends to speak with the Russian president in the coming days.
Firm US support, Macron also relayed, "is very important, not just for the Ukrainians … but for the stability of our world today. Because if we consider that we can abandon the country and abandon the full respect of these principles, it means that there is no possible stability in this world," pledging France's own increased military, economic, and humanitarian support.
The French president's trip to the White House alongside his spouse, Brigitte Macron, marks their second time as the guests of honor for a state visit, having first done so during Donald Trump's administration in 2018.
Thursday's agenda for Biden's first state visit since taking office has been filled with formal fanfare, with a list of events intended to highlight the strength of the critical relationship between the US and its oldest ally.