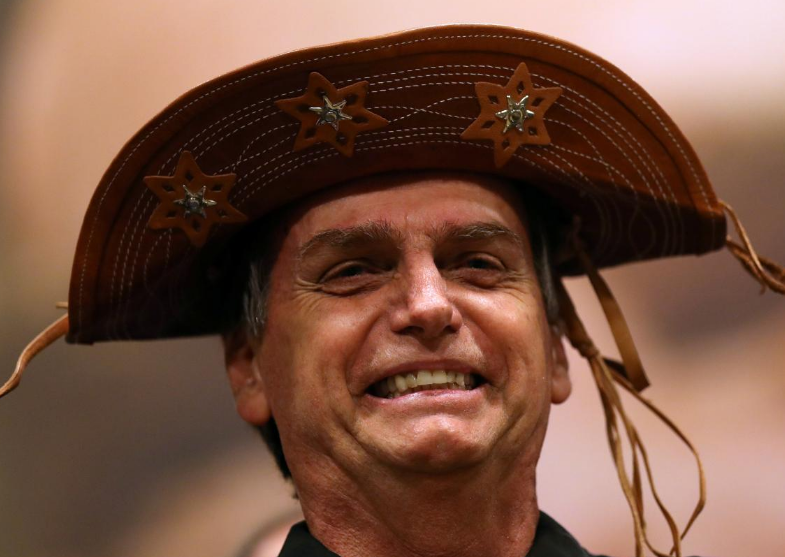 BRASILIA (Reuters) – The momentum is squarely behind Brazilian far-right presidential candidate Jair Bolsonaro, according to the latest polls, with just a dozen days to go before the run-off vote against leftist rival Fernando Haddad.
Polling firm Ibope released a survey late on Monday showing Bolsonaro with a commanding lead, taking 59 percent of the vote against Haddad's 41 percent, although the right-winger is still unable to lead street rallies as he recovers from a near-fatal stabbing in an assassination attempt last month.
The Ibope poll, published by the Estado de S.Paulo newspaper, showed that Haddad now has a higher rejection rate, with 47 percent of those asked saying they would never vote for him, compared with 35 percent rejecting Bolsonaro.
The survey interviewed 2,506 people on Saturday and Sunday across Brazil and had a 2 percentage point margin of error.
A 63-year-old, seven-term congressman who openly defends Brazil's 1964-1985 military dictatorship, Bolsonaro is pitching himself as the anti-establishment candidate, appealing to voters fed up with political corruption and violent crime.
Haddad, a former Sao Paulo mayor with the Workers Party (PT), has so far been unable to distance himself from the disdain many Brazilians harbor for his party and its imprisoned founder, former President Luiz Inacio Lula da Silva, who was convicted on corruption charges last year.
The PT held the presidency for 13 of the last 15 years and Lula remains beloved by many for his social policies, credited with easing the lives of the poor in one of the world's most unequal countries.
But the stunning levels of political graft that flourished under the PT governments, revealed by federal investigators in the last four years, have kneecapped Haddad's run.
He has struggled to both stick by Lula, whom the PT considers an unjustly convicted political prisoner, and also acknowledge the party's errors, promising to clean up the loathed political system.