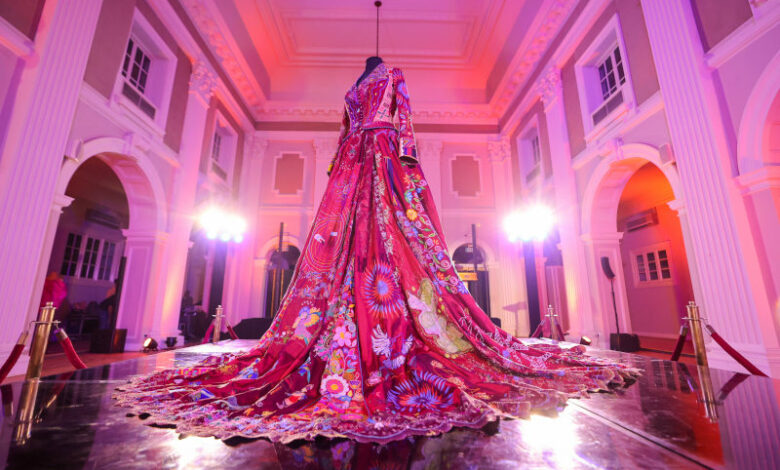 The British Embassy in Cairo hosted the "Red Dress and Egyptian Fashion Awards" exhibition on Monday, to celebrate British-Egyptian cooperation in the fashion industry.
The "Red Dress" was displayed as part of the exhibition's activities, which is a global collaborative embroidery project that began thirteen years ago, and was designed by British artist Kirstie MacLeod.
Attendees watched the exquisite embroidery detail on The Red Dress, which provides an artistic platform for vulnerable women around the world to weave their personal stories.
More than 300 women from more than 40 countries have worked on this dress, including Palestinian, Syrian and Ukrainian refugees, victims of the war in Rwanda, and 50 Bedouin women in Egypt with the support of the FanSina Foundation in St. Catherine, an initiative that aims to preserve Bedouin traditions and culture through handicrafts and embroidery.
The Red Dress has been shown in galleries and museums all over the world, including the Magritte Gallery in Paris, the Museum of Fashion and Textile in London, the Royal Academy of Art in London, and the Premio Embroidery Awards in Italy where the dress won first prize in 2015.
After a 13-year tour around the world, the hand-embroidered work of The Red Dress ended in March of this year, and it now appears as a complete piece of art at the British Embassy in Egypt, in honor of the 50 Egyptian women who participated in designing the largest piece of this dress.
As for the Egyptian Fashion Awards, it was launched earlier this year by the Egyptian Fashion and Design Council in cooperation with Mall of Arabia and the British Council in Egypt.
In February, the awards ceremony was held with the announcement of four winning designers: Marina Azar in the Young Designers category, Moaz el-Behairy in the Emerging Designers category, Gary in the Accessories Designers category, and Reem Jano in the Jewelery Designers category.
The award included a trip for the winners with Suzanne Thabet, the founding member of the Egyptian Fashion and Design Council, to participate in London Fashion Week.